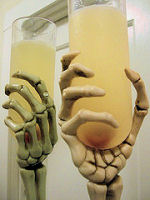 With Hallowe'en right around the corner, I figured you'd be up for hearing about a hauntingly good cocktail like this one. You shouldn't have to do a lot of shopping for specialty ingredients, nor remember any tricky measurement ratios.
We like it as a way to use up some of the less-attractive brandied cherries we concocted for a recent project: Although the dark-colored ones look lovely, the paler specimens are frankly quite creepy-looking and resemble little bloody brains… eww. (But how appropriate!)
If you don't want to throw off the flavors, rehydrate a few pale dried cherries in Pernod, or simply give the brandy-soaked cherry a good rinse.
Corpse Reviver #2
3/4 ounce gin
3/4 ounce lemon juice
3/4 ounce Cointreau
3/4 ounce Lillet blanc
a dash of Pernod, or other pastis
Shake all ingredients with ice, and strain into a well-chilled cocktail glass. Garnish with a homemade booze-soaked cherry … preferrably one of the creepy, pale-colored ones.