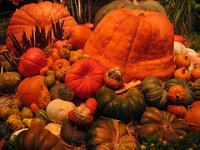 Happy Hallowe'en from Las Vegas, where everything has to be bigger and glitzier than back home — even the pumpkins.
I briefly mentioned the Bellagio Conservatory & Botanical Gardens harvest display last week, but as I thumbed through my Flickr photos looking for a seasonal shot, I got curious about this impressive tourist attraction. Here are a few (sort of food-related) facts:
The garden is designed and maintained by a staff of 129 that creates five seasonal displays: Asian New Year, Spring, Summer, Harvest, and Holiday.
Some of the tables at Cafe Bellagio face the gardens; the entrance to Restarurant Michael Mina is reached through the conservatory, as well.
The large pumpkin shown above weighs 397 pounds. We saw more than one that topped 500 pounds. How many pies is that?!
Right upstairs at Spa Bellagio, pamper yourself with a Pumpkin Bath Soak or a Pumpkin Honey Mask, available through the end of the year. Or perhaps a Pumpkin Spice Pedicure at the salon?
For future reference: Vegas.com offers a nice write-up of the Conservatory, including a sidebar that changes seasonally to reflect the current display.