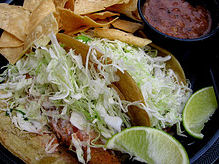 After a long afternoon of shopping, we picked up Dad from his appointment. As usual, he wanted a smoothie for his afternoon snack.
"Perfect," said Mom. "Jamba Juice is right next door to Rubio's."
Dad and I sat outside in the afternoon sunshine, while Mom went into Jamba for Dad's smoothie.
"Are you going to join us for fish tacos, Pops?" I asked.
"I'm not much of a fish guy," he said, telling me nothing I don't remember.
"Yeah, but these are good," I countered. "They're like fish-and-chips in a taco."
He nodded, and said nothing. I figured he was just waiting patiently for his smoothie.
Rubio's now styles itself a "Fresh Mexican Grill", but everyone in Southern California — where the 150-plus chain started — still calls it by the original name: "Rubio's Fish Tacos". Their speciality, of course, is Baja-style fried fish wrapped in corn tortillas, shredded cabbage, and creamy salsa. Yummo.
When Mom finally came out, we made our way next door. We ordered two fish-taco combos, and joined Dad out on the patio. When the food came, he set down his smoothie… and promptly tucked into Mom's tacos.
And he liked them.
Rubio's #1 combo meal comes with two fish tacos, a small side of soupy pinto beans, and a few chips — the perfect size for a light lunch. Much like Burgerville, Rubio's is unapologetically fast food, not health food. But it's the kind of splurge-y meal that leaves you feeling comforted and happy, not bloated and gross.
Rubio's Fresh Mexican Grill
1500 N. Green Valley Parkway
Henderson, NV 89014
702.270.6097