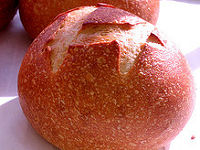 Mom and I were killing time after dropping Dad off for an appointment this morning, so we stopped by the local branch of Sunflower Farmers Market. Despite the name, it's really a supermarket, albeit one with a heavy emphasis on produce. You'll also find a nice selection of Harris Ranch meats, bulk foods, and — if you need assistance in the supplements department — a cranky vegan to lecture you about how meat clogs your colon. (Seriously, though… 99% of the folks who work there are sweet and lovely.) The produce is nicer than what you'd find at the national megamarts in town, but if you're a regular shopper at real farmers' markets or even Whole Foods, you may be a bit underwhelmed. Still, it's nice to walk into a store where the bulk of foods on offer are grown, not manufactured, and you have to go out of your way to find food in a package.
Right across the intersection from Sunflower, hidden in the back of a little industrial park, the amusingly named Great Buns Bakery specializes in fresh-baked breads. I should warn you that there's nothing artisanal about this place; it's a large-scale operation, with all the baking done on site in a thoroughly charm-free industrial bakery. One of the employees told us that they supply bread to "90% of the restaurants" in the area, and there certainly were dozens of pallets of rolls and loaves stacked up right on the retail floor, tagged with the names of local shops and eateries. But 'big' doesn't necessarily mean 'bad': The breads I've tried all taste great — the ciabatta in particular – and the prices are competitive. We picked up a loaf of day-old bread for $0.99 today, and it tastes just fine. I'll just ignore the fact that all the staff wear aprons that say "Keep your hands off my Great Buns".
[[Update 3/21/07: Just got word from Mom that Great Buns was destroyed in a fire last night: Fire Guts Las Vegas Bakery]]
We still had a few hours to fill, so we consulted the yellow pages and plotted a course to North Las Vegas. Past the end of The Strip, the area near Las Vegas Boulevard and Cheyenne Avenue feels a bit like the wrong side of the tracks, but it's actually a vibrant shopping area.
We first stopped in to the aptly named Thai Market and spent a good half-hour browsing the aisles of its small storefront. The woman working the cash register noticed Mom's bewidered look, and made a point of telling her to please let her know if she needed any help. The selection was good, but not great: a nice assortment of packaged goods, a few housewares, and a tiny produce cooler. (When we got home, we realized that there's a larger Thai market in Downtown, pretty close to Lotus of Siam… I sense a Thai field trip coming up.)
Next up was Super Mercado del Pueblo, a little slice of Mexico right on the fringes of Sin City. The market's strip mall — which reminded me much more of semi-urban Mexico than the shops of Mexican-American neighborhoods in California — also houses a self-serve car wash, a beauty parlor, and a shoe outlet (3 pairs for $20!). As you walk in the door, there's a portrait studio, a jewelery shop, and an insurance agent …and, of course, slot machines… it's still Vegas, after all. The market itself is clean, busy, brightly lit, and friendly; at least three employees greeted us during our brief browse, offering help. The meat counter advertises Harris Ranch meats, with a seemingly endless selection of mostly Latino-style cuts; nearby, a well-stocked dairy counter has all of your queso-related needs covered. The large, comprehensive produce section's offerings looked a little chewed-on, but you can't beat the prices: $1 for 15 limes, anyone? They make a village's worth of tortillas every day on site, too… many of the 24-packs were still warm — mmm! Two walls were covered with cellophane bags of every kind of dried chile, herb, and nut imaginable.
We passed at least three more Safeway-sized Latino grocery stores on our way back to pick up Dad. Definitely plenty of opportunities for a mercado prowl in the future.
Sunflower Farmers Market
3365 E. Tropicana Avenue (at Pecos)
Las Vegas, NV 89121
702.777.0650
Great Buns
3270 E. Tropicana Avenue (at Pecos)
Las Vegas, NV 89121
702.898.0311
Thai Market
3297 Las Vegas Blvd. North (near Cheyenne)
Las Vegas, NV 89115
702.643.8080
Super Mercado del Pueblo
2987 N. Las Vegas Blvd. (near Pecos)
North Las Vegas, NV 89030
702.649.7780