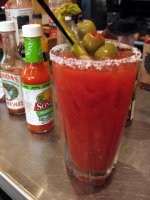 We're staying overnight at the 5th Avenue Suites, one of two Kimpton hotels in Portland. And as much as we love Kimpton — and recognize that their restaurants can sometimes be better than merely decent — we're pretty clear on the fact that you're not going to a hotel restaurant in search of culinary excellence. You're usually pretty safe with American standards like burgers, club sandwiches, Cobb salads and the like, but expecting anything memorable is a recipe for disappointment. This, we know well.
So why in the name of all that is foodie did we take the elevator downstairs to the Red Star Tavern & Roast House, rather than seeking out a truly worthy place to brunch? Well, kids, today's the Portland Marathon, and the whole city — most especially the area around our hotel — is jammed with people. And, on a more personal note, it's also the morning after a very late night spent celebrating the marriage of two long-time friends, Karen & Nelson, out at Edgefield, the McMenamin's brewery's rustic resort on the edge of town. Let me say that again: Brewery. Wedding reception. Nelson's crew. You get the picture…
Now, we didn't know this ahead of time, but it turns out that Red Star has a D.I.Y. bloody mary bar on the weekends. You choose one of ten decent vodkas, and they bring you a very healthy glug in a salt-rimmed pint glass, and point you to the bar. Along said bar you'll find a wide assortment of bloody mary mixes, plus straight tomato juice, celery salt, hot sauces, horseradish, and what must be the city's best-stuffed array of olives. No Worcestershire sauce, Tony Cachere's, or celery stalks… but I suppose pickled asparagus will do in a pinch.
And, you know, the drink's pretty average. It's not a stunning beverage, but I've got no one to blame but my own sweet hung-over self. (Mental note: This is why we generally leave brunch to the experts.) Cam wisely sticks with coffee and water in the beverage department, and busies himself with the Sunday NY Times. I never did trust a newspaper that's too uptight for comics, but that's probably best left to another post…
In a strange departure from our usual preferences, Cameron opts for fish & chips — a lunchy brunch option! — and I choose the biscuits and gravy. The service is polite, prompt, and cheerful, and we're all happy. Until the food comes, that is.
My biscuits are fine, but the gravy looks and tastes rather prefab. And I don't understand why a fancy hotel like this can't afford a slotted spoon for the kitchen: my poached eggs come in a bowlful of water… a pet peeve of mine, admittedly. On a more serious note, Cameron's fish is coated in a delectable-looking batter, but what's inside is clearly wa-a-ay past its prime, reeking of ammonia. He calls over our server, who apologizes profusely and whisks the plate back to the kitchen. Almost as quickly, she brings it right back to the table, explaining that although she'd be happy to replace it with another dish, "the cooks say it's catfish and that's just how it smells." Uh, yeah. No.
Ultimately, French toast with real Vermont maple syrup turns out to be a wiser choice.
I vaguely remembered having eaten at Red Star on our last swing through Portland — what is it about this city that brings out the food-slackers in us? — and being unimpressed, but I suppose the bright spot in the whole debacle is that I certainly will remember this round… even I won't make the same mistake three times.
Red Star Tavern & Roast House
503 SW Alder Street (at Fifth Avenue)
Portland, OR 97204
503.222.0555