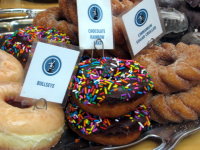 Among Seattleites, Top Pot doughnuts have acquired something of a cult status. When the Seattle Rep coffee bar began offering them a few years ago, for example, they so vastly understimated demand that their entire supply sold out nearly an hour before the curtain went up, leaving not a crumb for late arrivals… much less intermission.
Now we love us some doughnuts, but it took us ages before we managed to get our mitts on a Top Pot. We'd walk by their Belltown location after dinner or a movie, and shake our fists at the darkened storefront — who closes a doughnut shop at 7pm?? (Luckily, the original Capitol Hill shop keeps slightly more-sane hours.)
Ironically enough, it was breakfast time when we finally succeeded in scoring one of these babies. And what an assortment met our hungry eyes: Crullers of all colors, maple bars, sprinkled cake, sugar-glazed…. mmmm. Dense and intense, they're like the anti-Krispy Kreme: not hot, not fluffy, not angelic in the least. Served alongside custom-roasted coffee, you've got yourself a breakfast worth hunting down.
Top Pot Hand-Forged Doughnuts
609 Summit Avenue East
Seattle, WA 98102
206.323.7841