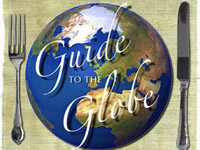 Over at The Traveler's Lunchbox, Melissa posed a challenge to her fellow food-bloggers: List the five things everyone should eat before they die.
Erin tagged us to participate back at the end of August, and we've been bickering about it ever since. Does it mean five natural foodstuffs? Five prepared dishes? Five culinary experiences? Five meals? Being a rather ecumenical gal, I'm inclined to interpret the question in the broadest terms; Cameron's being a little more dogmatic, and — hey, no value judgement here — is not surprisingly having a very hard time coming up with his answers. I, on the other hand, am having a terrible time limiting myself to just five. Argh.
But, after a couple weeks of pensive nail-biting, I think I can safely say that you, my foodie friends, should go forth and eat the following five items. But don't go dying on me any time soon, ok?
1. street food in Thailand, preferably breakfast at the Damnoen Saduak floating market. I recommend kanom krok, soup noodles, thai coffee, and a mango, but feel free to sample whatever's being made by the ladies with woks in their wooden boats. We spent 3 weeks in central and northern Thailand this past January, eating street food every day. And while we did have some nice meals in restaurants, it's the noodle-shop nosh and street-stall snacks that still haunt me.
2. heritage pork in Britain. Your choice: a pork & stilton sandwich at Borough Market, or roast middlewhite at St. John. Or both, hey… don't let me stop you. Even the best pig I've eaten stateside is a pale, pasty shadow of the succulent swine they've got over in Blighty. Despite the weakness of the dollar and the superstrength of the pound, it's a taste-memory that's worth the cost of airfare.
3. tacos from a taco truck, preferably carnitas at the El Asadero taco bus on South Rainier in Seattle. This was the year I got over my fear of street food. I shudder to think of all the amazing food I missed. I'm not particularly squeamish or germ-phobic, but I am a total wimp when it comes to busting out of my cultural comfort zone. For some reason, having mastered the the taco truck experience over the last couple of years made it easier to go outside the boundaries and let 2006 become the Year of Eating Dangerously for this former fussy eater. So far this year, I've eaten sushi at 6am in Tokyo (prepared by chefs with whom I shared absolutely no common language), all kinds of crazy nutty wacky stuff in Thailand, escamole in Mexico, and a host of other oddities… and the year's not yet over.
4. a meal made entirely from peak-season farmer's market finds. Although I've always been dedicated to the idea of seasonal and farm-direct cooking, this summer was the first time we could honestly say that 100% of the ingredients for certain meals — including staples like oils and salts — came from the market. The cynical me is surprised that it really makes such a difference, but the nutty-crunchy side of me realizes this is one of them-there culinary no-brainers.
5. the tasting menu at The French Laundry. A quick glance at other blogger's contributions to this meme shows I'm not alone on this one. But really… it's one of the few high-end dining experiences that's objectively worth every penny that you pay for it. This meal will genuinely change the way you think about dining out and — if you're particularly introspective — about cooking as well. My photos certainly don't do it justice, nor do any of the (admittedly plentiful and generally well-written) first-hand accounts you've read online. Clear your morning schedule, put the phone on speed-dial, and pray for an opening: I promise you won't regret it.
————–
Oh, I almost forgot to pick the next five other bloggers — which is getting really hard, as it seems like nearly everyone's already taken a crack. So, tag… you're it!