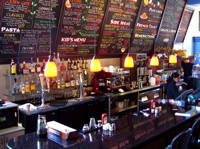 Words cannot begin to describe how much we loathed Leticia's, the former quasi-Mexican occupant of the space at Fillmore and Clay — although my Yelp review certainly took a stab at it. But even adjusting for positive bias, we're happy to say that this space's newest incarnation as the latest outpost of the Crepevine mini-chain seems to be a much better fit.
But let's start at the beginning: We were making the weekly pilgrimage to the Ferry Plaza Farmer's Market, when we got seriously derailed by a malfunctioning ticket-printing machine at our favorite parking garage. We circled the area looking for another place to park that wouldn't extract blood for 2 hours of parking, and came up empty. Sensing the ticking clock of our dinner guests' impending arrival at 5pm, we pulled the ripcord and decided to do our marketing, and our breakfasting, at a more mainstream establishment.
We pitched around a few restaurant-near-good-grocery combos, and came up with Mollie Stone's on California (a terrible choice, as it turns out… but that's another post), surrounded by a wealth of breakfast options. Remembering that a new Crepevine had taken over the old Leticia's space made the decision even easier: We knew we could get in, and get fed, with a minimum of fuss.
Even though nobody in the kitchen had the common sense to remove fresh spinach from their offerings, we still enjoyed our breakfasts — a benedict-like Costa del Sol for me, and a Petaluma scramble for the Bald Guy. The menu at the PacHeights location is much the same as at other Crepevines, with the thoughtful addition of a full bar for those of us needing a wee hair of the dog with brunch. And the decor's a little less grungy than, say, that of its sibling out on Irving (where we used to eat a lot, way back in the day).
Now, I don't want to overstate the case — the food is nothing more than workmanlike and certainly not worth a drive across town. On the other hand, we both agreed that if there were a Crepevine near us, we'd probably eat there a lot more than we'd care to admit. With omelettes, sandwiches, pasta, burgers, and the original "salads bigger than your head", Crepevine does a creditable job filling the "I dunno, honey, where do you want to eat?" niche. Affordable, clean, fast, and reasonably tasty… what more can a hungry couple on the run ask for?
Crepevine
2301 Fillmore Street
San Francisco CA 94115
415-922-0102