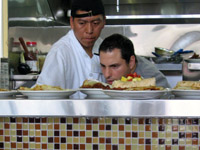 The food took forever to come out. It wasn't good when it arrived. The servers were tripping over each other. There was a waiting list as long as your arm at 9:15 on a Sunday morning.
But hang up the sarcasm phone for a second and listen: we're really, really pulling for Toast Eatery, a contemporary diner recently opened in Baja Noe Valley.
Ever since we finally threw up our hands over Al's Cafe Good Food on Mission street, we've been longing for a good breakfast place that didn't require a visit to the peninsula. Anita had been hearing about Toast's debut so we planned an early (for us) attack on the corner of Church and Day streets.
We were completely unsuccessful in beating the crowds that inevitably surround any halfway-viable brunch joint in Noe Valley. The interior isn't large, but Toast boasts a number of sidewalk tables. A little flexibility bought a significantly shortened wait for seating: we scored two stools at the bar, a choice that paid dividends later in the meal. The interior is invitingly painted and tiled, and sports cute light fixtures and accoutrements. It's a clean, well-lighted place for grinds.
The menu at Toast could be taken from any one of a million diners across the nation: scrambles, omelets, pancakes, french toast, eggs benedict, corned beef hash, and chicken fried steak. Lunch/dinner options include soups, salads, burgers, and sandwiches, with plenty of traditional favorites: french dip, club sandwich, cheese steak, hot pastrami, and chili.
We chatted with one of the proprietors who was running herd on the front of the house and handling the counter traffic. I asked if they had real maple syrup, and he said that they were planning on adding it for an extra charge, but they hadn't yet. Major points. I encouraged him to follow through. In my book, real maple syrup is one of the simple things that a breakfast joint can do to rise above the crowd. I'm happy to pay the extra buck, and I won't order pancakes without it.
The servers were obviously still getting their act together, but everyone was hustling and mostly friendly. Anita ordered chicken fried steak and some orange juice, while I went for eggs benedict and coffee.
Half an hour later we'd finished the Sunday paper, I was on my third cup of coffee (not bad tasting, nice big cups), and we were hungry. When the food finally appeared, it became clear that the kitchen is still getting its act together, too. The hollandaise was a strange dark brown color, watery, grainy, and inedibly salty—as if it was made from a mix and someone used a cup of powder instead of a tablespoon. Anita's food was no better: Sysco battered steak patty cooked with zero love and covered in gravy from a mix. Our hashbrowns were just barely cooked. Finally, in a barely believable bit of irony, the english muffins on both our plates were completely…wait for it…unToasted.
Sigh.
I complained (nicely) about the benedict and our seating choice paid off. The man in charge got instant feedback, and I was quickly supplied with a replacement (bagel with lox and cream cheese). Anita struggled through her plate, as there wasn't anything returnably wrong with it. The scrambled eggs weren't bad, at least.
We'll almost certainly return, for two reasons. First, we badly need this kind of place nearby. With the exception of Joe's Cable Car, it's impossible to get a non-ethnic meal in our neck of the woods for less than $70 (for two) that doesn't suck five different kinds of ass…and even then you're taking your chances. Emmy's Spaghetti Shack doesn't count because you have to be on the ice to score and if you don't take credit cards, you get to stay in the penalty box. Plus you can end up waiting for an hour for a table if you don't whack someone first.
The second reason that we'll return is that I think the folks at Toast have their heads on straight and they're very obviously still sorting out their kitchen. The response to my complaint was fast, professional, and there was genuine interest in what went wrong. Plus, there were lots of positive little we're-paying-attention details: organic, Fair Trade coffee served from thermal carafes instead of left cooking on burners; a small, low-end, but intelligent wine selection; very cool silverware; and, of course, real maple syrup on the way.
No guarantees (witness the continued incompetence and eventual fall of Chez Maman Bernal), but consider this review a bug report and give Toast a try after they've had a chance to pump through a few release candidates.