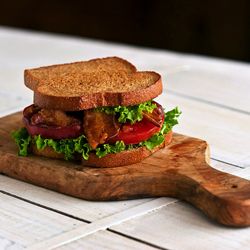 I'm pretty proud of most of the photography on our blog. I've won an award or two, and I've even taught people how to shoot better cocktail photos.  But even though I'd gotten pretty handy behind the lens, for the life of me I could not shoot a beautiful sandwich. (If you don't believe me, check out some of my older posts.)
This competence gap of mine had gotten so bad, I'd basically scratched sandwiches off the blog to-do list. I even participated in Michael Ruhlman's Grow-Your-Own BLT Challenge this summer, but the end result was so photographically uninspiring — so utterly unworthy of all the effort we put into growing,  butchering, curing, smoking, kneading, and whisking every last ingredient we used — that I never wrote about it here. (Though I did recap, briefly, here.)
All that changed last weekend, when I took the class that will forever change the way I think about photographing food in a studio setting.
For years, I'd drooled over other blogger's accounts of the food-styling workshops led by Food Fanatics Denise Vivaldo and Cindie Flannigan, but had never taken the plunge and signed up myself. But when I heard they'd teamed up with food photographer (and MattBites blogger extraordinaire) Matt Armendariz to host a special two-day workshop just for food bloggers, I knew the time had come.
During Saturday's session, Denise and Cindie walked our small group through a number of food-styling tasks, first demonstrating techniques, then setting up stations in Matt's studio kitchen for us to practice ourselves. Although Cindie demonstrated a handful of non-edible styling tricks (like using petroleum jelly to add a juicy glow, or propping up a stack of pancakes with makeup sponges) she always demonstrated edible alternatives (like freezing syrup to keep it viscous, or using a kitchen torch to get a hamburger deliciously browned). All through the class, Denise kept us laughing with snippets of industry gossip and a rolling patter of hilarious quips to illustrate key lessons. (My favorite: "The longer you cook a piece of meat, the more it looks like George Hamilton!" So true.)
On Sunday, each student chose a project to put real-world skills to the test. As we prepped our dishes for their moment in the spotlight, Cindie and Denise stepped in to offer suggestions and share tricks. The kitchen hummed with a gaggle of bloggers hand-arranging strands of pasta in a bowl, selecting only the reddest pomegranate arils to garnish a salad (and then arranging them with tweezers!), melting pizza cheese with a heat gun, and bulking up the bottom of a bowl of curry to keep the prettier ingredients from sinking to the bottom.
For my own project, I knew I was in a safe place to tackle my sandwich fears. Denise showed me three different ways to cook bacon so that the edges stayed curly and appetizing, taught me to cook toast to a perfect golden-brown glow, and stood by as I sorted through a pile of lettuce to find the freshest, prettiest leaves. After stacking and restacking the ingredients in various combinations, I was able to create a BLT that actually looked as good as I knew it would taste.
I chose a relatively simple setting for my "hero" sandwich, and waited for my turn at one of the two shooting stations Matt had positioned in the abundant natural light of the studio's roll-up doors.  One of the most enjoyable parts of the day was watching my classmates set up their projects, place their props, adjust their tripod positions, and fiddle with the details. Blogging is such a solitary activity; it was a real treat to watch other people's creative processes up close. Matt worked with each of us to find the best angle for our shots, adjust lighting, suggest changes to props, and generally hold hands and help us feel confident about our own abilities.
The class wasn't cheap — $695 for two days of combined demos and hands-on workshop — but even as an experienced photographer, I felt it was worth the expense. There are precious few opportunities to learn food styling from reputable stylists at the top of their game, fewer still to work one-on-one with one of the country's top food photographers. Having all three of these experts together in a single, collaborative workshop was invaluable, and getting to play in a professional food-photography studio was the icing on the cake.
The biggest and most pleasant surprise of the weekend was just how much everyone in the class collaborated, helping each other choose our project subjects, select appropriate props from Matt's amazing inventory, set up our cameras to capture the best shots, and make adjustments to food on the set. Though we all were working at different levels — some were more experienced at styling but needed help with their cameras, and vice-versa — we all helped each other get great results.
At the moment, Food Fanatics doesn't have any additional styling-plus-photography classes like this one scheduled, but that's due to change soon: A repeat of the blogger-specific class is slated for late spring/early summer 2010. (Watch the Food Fanatics blog for details.) If you're just interested in the styling aspect, Denise and Cindie will be teaching two classes in January: a 3-day food-styling workshop in Long Beach, and a 2-day hands-on food styling class in San Francisco at the The Art Institute.
Food Fanatics
Professional site: Food Fanatics
Food styling classes: Culinary Entrepreneurship
Blog: Food Fanatics Unwashed
Twitter: @FoodFanatics
Matt Armendariz
Professional site: Matt Armendariz Photography
Food & photo blog: MattBites
Twitter: @MattArmendariz