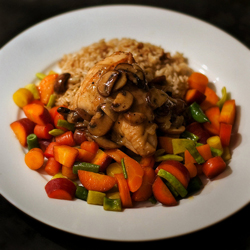 Possibly the only thing I love more than food is travel. I just don't feel right unless there's at least one trip on the horizon, preferably two. We've been lucky enough lately to spend three of the last four weekends on the road — on a spontaneous trip to Los Angeles, then back down to Long Beach for Matt's photography class, and then up to Sea Ranch to celebrate Sean's 40th birthday.
But all this gallivanting around — especially over the weekends, when our biggest and best farmers markets are held — makes it rough to eat local. We're lucky enough to have a shop or two in San Francisco that really pays attention to the issues of local eating, but when summer comes to an end, even their 100-mile offerings can make it hard to shop on a whim.
Our chicken-and-egg CSA keeps us stocked with a relatively painless source of fallback protein, and we're pretty good at freezing, canning, and otherwise putting up food for just these sorts of circumstances. In a regular post-travel week, we'd probably have pasta bolognese one night, chili or sloppy joes for another dinner, and maybe chicken soup for a third. But this week marks the start of the 3rd Annual Dark Days Eat Local Challenge, so I wanted to have a photo- and post-worthy recipe to share.
We're still pulling carrots and a small handful of beans out of our garden, so our first side-dish was a simple combination of quick-braised vegetables. And since we've got local sources for rice, not being able to get to the farmers market for local potatoes or other starches was no hardship. I knew we had some chicken in the freezer from our last CSA delivery, so I just had to find a new way to prepare it. (After four years of blogging and three years in this particular challenge, I've pretty much used up my stash of tried-and-true recipes!)
Because we've been up to our ears in tomatoes from the garden, I wanted to avoid most of the Italian-style recipes that would take us back in a tomato-y direction. And since it's finally feeling like autumn around here, I craved a recipe with a heartier presence, one that would give us a good dose of internal warmth for the cool evening. This traditional Alsatian dish fit the bill quite nicely: Simple enough to whip together on a weeknight from easily-sourced local ingredients, but pretty and delicious enough to share with you. A simple snack of baguette, cheese, and radishes from our garden kept us happy while the chicken braised, and dinner was on the table in just about an hour.
Poulet au Riesling
- adapted from Jean-Georges Vongerichten in Food & Wine
5T unsalted butter, at room temperature
a 3-1/2-pound chicken, quartered
1 large shallot, minced
2T brandy
1 cup dry Riesling or other spicy/fruity dry wine
6 ounces white or brown mushrooms, sliced 1/4 inch thick
1T flour
1/3 cup cream
Rinse and dry the chicken parts, and season with salt and pepper. Melt 2T of the butter in a large skillet; add the chicken and cook over medium heat until lightly browned, turning to brown all sides.
Add the shallot to the pan and saute for 1 minute. Add the brandy — flambé it for added flavor, if you like — then add the wine. Cover and simmer over medium-low heat until the chicken breasts are just cooked through. Transfer the breasts to a plate and cover. Continue to simmer the legs about 10 minutes longer, then remove them to the same plate with the breasts.
While the chicken simmers, melt 2T of the butter in a second skillet. Add the mushrooms and cook over low heat until the liquid evaporates. Season with salt and pepper, then increase the heat to medium and saute until browned.
Make beurre manié with the remaining butter and the flour. Stir the cream into the skillet with the chicken, and bring to a simmer. Gradually whisk the beurre manié into the cooking liquid and simmer while whisking, at least 3 minutes. Add the mushrooms and adjust seasoning to taste. Return the chicken to the skillet and briefly reheat. Serve with rice or noodles.
---
Farmers and food artisans who created the ingredients for this week's meal:
Soul Food Farm, Vacaville: chicken
Dirty Girl Produce, Santa Cruz: shallot
Spring Hill Cheese Company, Petaluma: butter
Korbel, Geyserville: brandy
Handley Cellars, Philo: Gewürztraminer
Far West Fungi, Moss Landing: cremini mushrooms
Guisto's Vita-Grain, South San Francisco: flour
Clover Organic, Petaluma: cream
Massa Organics, Hamilton City: rice
Semifreddi's, Alameda: sweet baguette
Andante Dairy, Petaluma: Picolo triple-cream cheese
…and our own homegrown radishes, carrots, and beans