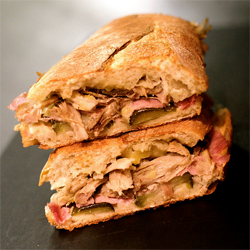 I keep teasing you about the pig roast, and — I'm sorry — this isn't going to be that post, either. I'd like to say that it was such an epic event that I'm still wrapping my brain around it, or maybe that I am still trying to choose among the fabulous photos our friends took to illustrate the post.
In truth, my only excuse is that we had a rather… dramatic weekend, including one night that didn't end until 4:30 the next morning — for entirely not-fun reasons. We're all fine now, but all the drama meant there wasn't a lot of time for rest, reflection, or anything resembling creativity, either in the kitchen or at the computer.
Luckily, there was a freezer full of pig-roast leftovers, which is like money in the bank as far as I'm concerned. Even with sleep-deprived brains, we knew well enough to thaw out a bag of pulled pork to feed our weary bones. On Sunday morning, Cameron pulled together another one of his famous hash-and-eggs brunches with part of the meat; later on, we dug up a couple of Acme grinder rolls and made Cubanos with the rest.
These Cuban-style pressed sandwiches — roast pork, ham, cheese, pickles, and mustard, all smooshed together into a crunchy-soft-chewy miracle — are just the sort of thing we want to eat when we need a little cheering up. If you happen to have some cabbage and carrots and onions around, I can vouch that Cubanos are pretty tasty with a quick slaw; all you need is mayo, cider vinegar, salt and pepper. Otherwise, a cup of black-bean soup would not be out of place, nor would a handful of banana chips.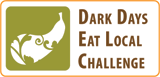 If you don't have a freezer full of pulled pork (pobrecito!) you can substitute leftover roast chicken, or even leave out the roast meat completely. To compensate, add a little extra ham and cheese and you've got the makings of another venerable Cuban sandwich: the Medianoche — named, so they say, for the midnight hours when many are consumed, to fuel up for another round of late-night dancing or drinking.
You may read otherwise elsewhere, but you don't need any special equipment to make a Cubano — though I am sure a panini press would be handy, if you happen to have one. Once you have all the ingredients on hand, a Cubano is simple to make, and it's comfort food of the highest order. And really, couldn't you use a little coddling?
Cuban Sandwiches
- adapted from Kitchen Sense
2 rustic sandwich rolls, about 6″ (or half a wide-ish baguette)
2-4T mustard
2T mayonnaise (optional)
1 whole kosher dill pickle
4 slices ham
4oz roast pork (or chicken), shredded
2 slices mild cheese (such as Jack or a mild Swiss)
Preheat a large cast-iron skillet or a griddle over medium heat.
Slice the pickle lengthwise into four pieces, and set aside. Cut the rolls lengthwise, leaving the back side attached as a hinge. Open the rolls up and spread a light layer of mustard on the inside bottom. If using mayonnaise (which I recommend unless your pork is very juicy), spread an even layer on the inside top half of each roll.
For each sandwich: Place two pickle slices on top of the mustard, then top with a slice of ham and half of the pulled pork. Top with a slice of cheese, and close up the sandwich.
Place the sandwiches on the preheated skillet or griddle, and press down with a wide spatula. Top the sandwiches with a cookie sheet or a second skillet, and weight down (big tomato cans work well). Cook for 4 minutes, pressing down firmly on the weights every minute or so.
Using hotpads, remove the cookie sheet. Turn the sandwiches over and replace the sheet and weights, again pressing down firmly. The liquid from the pickles and ham will sizzle a little bit; this is a good sign. Cook for another 4 to 5 minutes, until the top of the roll is crispy and the cheese is melted. Remove from the pan and cut each sandwich in half; serve immediately while hot.