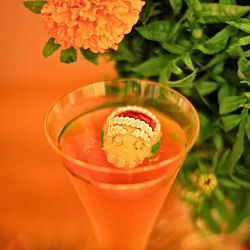 Dia de Los Muertos, or the Day of the Dead, is a bit of a misnomer, especially in Mexico where the festivities are often spread out over two or more days. Like most Latino holidays of a spiritual sort, this fiesta integrates indigenous traditions alongside Catholic feasts, blending traditional pre-Hispanic ancestor worship with the Europeans' All Saints Day and All Souls Day. Children and other innocents are remembered on November 1, and those who died as adults are honored the next day and night. As someone for whom death is a relatively fresh memory, setting aside a few days to remember those we have lost seems eminently wise, a useful way of mourning together and acknowledging individual loss as part of a universal experience.
The celebration — somehow more intimate and yet more festive than Halloween — gives people time to openly remember their dearly departed, and many Mexican and Mexican-American families erect memorial altars in their homes. These ofrendas typically feature a photo of the deceased surrounded by candles, glasses of water, vases of marigolds, small statues of saints or skeletons, decorated sugar skulls, and plenty of food. In addition to the rich bread known as pan de muerto, altar offerings often include moles or other fragrant dishes, bottles of beer or tequila, and other treats to tempt the spirits of the departed to return for a visit home.
Not far from our house, the streets around 24th and Mission are filled with shoppers stocking their altars: The craft stores sell skeleton figurines and papel picado, the florists put out bunches and buckets of marigolds, the panaderias set up tables of pan de muertos on the sidewalk, and the smell of incense fills the air. The mood is festive and the decorations colorful, and tonight, there'll be a festive parade through the heart of the Mission. What a civilized way to celebrate life's ultimate certainty.





One of the most recognizable symbols of the fiesta is La Calavera de la Catrina, the fancy-lady skeleton. As with many macabre figures in Mexican folk art, La Catrina serves as a reminder that death comes for us all, even the well-to-do and the beautiful. But La Catrina doesn't let her mortality stand in the way of a good time: She dons her best plumed hat and heads out for a jaunty stroll. Although La Catrina is, herself, dead, she looks so much like a storybook widow-in-black that it's hard to remember that she's actually the deceased, not the mourner. No wonder she feels so festive! If you catch her in the right moment, she might just give you a…
Widow's Kiss
1-1/4 oz Calvados or other apple brandy
3/4 oz Benedictine
3/4 oz yellow Chartreuse
2 dashes aromatic bitters
Stir all ingredients with ice, then strain into a chilled cocktail glass. Garnish with a brandied cherry, or a sugar skull.