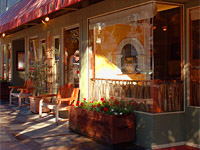 If you're looking for a review of Perbacco restaurant in the Financial District, we've got one of those, too. (Psst, click HERE.) But below you'll find a review of Bacco in Noe Valley.
Cameron's sister and brother-in-law were visiting last week, taking a slightly circuituitous route from their old home in London to their new one in NYC. Since we'd had a bit of a delay rounding up a babysitter for our favorite niece, all of the city hotspots were long since booked for a Friday-night celebration at anything resembling a decent dinner hour.
And so, like we've done so many times before, we turned to Ristorante Bacco, another one of our perennial faves. We've said it before and we'll say it again: We can never understand why we're able to walk in without reservations on weeknights, and snag prime-time seats on OpenTable even at the last minute.
It may be a cliché, but Bacco really does feel like a neighborhood restaurant in Italy: great European-style service, well-prepared food with a seasonal vibe, and warm ambiance without a hint of pretension. All of the waiters are Italian, and their European approach is evident: they're not just here while they write their screenplay or find their next tech job; they're professional waiters who know a lot about food (and wine) in general, and Bacco's menu in particular.
The decor is cozy and Tuscan-ish in a manner that verges on caricature: Large smooth terracotta tiles set on a diagonal covering the floor, color-washed walls, long/heavy curtains, and bas-relief sculptures of Bacchus and his nymphs.
The menu changes seasonally, but many items remain year-round. Unless you've spent your life eating at Olive Garden, Bacco's not going to change the way you think about Italian food. But that's not really the issue: We come here — as you should — expecting good food, simply prepared.
Appetizers cover a wide range: there's usually a soup (often bland and forgettable), a special salad (usually one of the best choices; they sound more boring than they turn out), and some seasonal small plate.
In the pasta section, our old favorites include a rigatoni dish with lamb ragu and tiny peas. The usual assortments of meat-centric entrees are workmanlike (and more expensive) and generally not quite as interesting as the pastas. But if you see something that catches your eye, go for it: all of them use top-notch ingredients and are prepared just as they should be.
Desserts — panna cotta, affogato, tiramisu and the like — are satisfying, if neither particularly innovative nor seasonally inspired. The wine list offers a small assortment of California reds and whites, plus a larger selection of Italian varietals; all are reasonably priced.
Ristorante Bacco
737 Diamond Street
San Francisco, CA 94114
415.282.4969