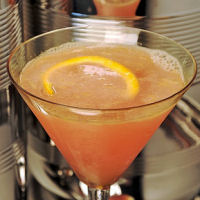 Editor's note: We're off to Seattle, so our pal Sean has agreed to man the bar in our absence. He illustrates the maxim that you can't judge a book by its cover, or a tasty cocktail by its (dreadful) name. And, look! — it even features a locally made vodka. Hmm… Drink Local Challenge, anyone?
What's in a name? that which we call a rose
By any other name would smell as sweet;
So Romeo would, were he not Romeo call'd,
Retain that dear perfection which he owes
Without that title.
– Juliet, "Romeo and Juliet"
Romantic notions aside, I'm afraid there's more to a name than fair Juliet would have you believe. Especially when we're talking about cocktails.
Case in point: Amy and I recently attended an event at McCormick & Kuleto's designed to showcase their program of classic American cocktails. In a function room with sweeping views over the Bay and Fisherman's Wharf, a pair of bartenders talked about the place of the cocktail in American history extending back some 300 years; for example, they spoke of the Mint Julep's origins in Virginia as opposed to Kentucky, and how a classic cocktail should have four elements: Liquor, water, sour and sweet. To complement all this boozy banter, they were of course shaking, stirring and pouring up cockatils — eight in all. But why, then, when talking about classic American cocktails, did they choose to kick the evening off with what they called a Raspberry Cosmimosa?
If I saw this drink on a menu, it would be absolutely the first thing I would not order. The name alone sends up a series of red flags, starting with the portmanteau portion of the moniker: Cosmimosa = Cosmopolitan + Mimosa. You'll never find me ordering a Cosmopolitan in part because I think of them as grown-up Kool-Aid but mostly because I have yet to have one in a bar that didn't royally suck. Mimosas are somewhat less offensive … except of course for that whole orange thing. To top matters off, the dangling "Raspberry" at the beginning smacks of some kind of superimposed flavoring, an unwelcome artifice in what was already becoming an overcomplicated concept.
But here's the thing: It was good. It was balanced, bright, refreshing, and all-around tasty. It certainly had the four major elements: Vodka and champagne made up the alcoholic components; lime juice gave it tartness; orange and simple syrup pumped up the sweetness; and the shaking over ice gave it just enough dilution to open up the flavors.
They were generous enough to share the recipe, and I can attest it's as good in the home as it was in the restaurant. In fact, this makes a wonderful party drink, as you can make the body of it in bulk, shake it up in batches and just float the champagne on a per-serving basis.
So what's in a name? Plenty. But if, like Juliet, you are willing to look past that barrier, you may find much to love on the other side.

Raspberry Cosmimosa
2 fresh orange wedges
1 1/2 oz. raspberry-infused vodka
(the original recipe called for Stoli Raspberri, but I used Hangar One)
3/4 oz. simple syrup
3/4 oz. fresh lime juice
1/2 oz. cranberry juice
1 oz. Champagne or, if you prefer, prosecco
In a cocktail shaker, add the orange wedges and crush with a muddler. Add the remaining ingredients except champagne. Fill with ice. Shake vigorously for 5 seconds. Strain into a cocktail glass and top with champagne. Garnish with a twist of orange peel and a raspberry.
To make in bulk, change all measurements from ounces to cups, and mix everything but the bubbly in a pitcher. Follow the same instructions, shaking in batches. Serves 8.