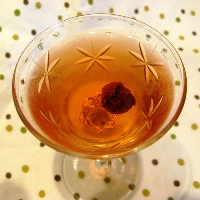 "What a party."
I figured that we were in for a good time when we hosted Mixology Monday: how can you go wrong with champagne and fun-loving crew of cocktailian bloggers? But there's no way that I could have prepared for this bash.
The place was the kind of mess that only a spectacular party leaves behind. Bottles of champagne stacked three deep on the kitchen counter. The compost bin overflowed with squeezed fruit and zested lemons and limes.
I shambled through the house, stumbling across glassware, napkins, and hazy flashes from the night before. I remembered a woman musing on the best cocktail for an Aquarian. An intricate lesson in granita manufacture. A heated debate over the qualities of rye. A dessicated pile of yellow strips reminds me of the impromptu peel-carving contest.
"Oh hell. It's Thursday. " Anita wandered into the kitchen. "That party lasted all week. I don't know what I'm going to tell the office. And what are we going to post for Drink of the Week?"
"There has to be something here we can use," I said, pawing through the regiment of half-empty liquor bottles standing guard on the counter: bourbon, brandy, gin, vanilla Cognac, homemade infusions, syrups. "What about this?" I waggled the bottle of Benedictine that we'd purchased to make the Pegu Club version of the Prince of Wales.
"Hang on." Anita dove into the Web and came up with a recipe: gin, vermouth, Benedictine, and bitters. We mixed it up and clinked glasses. "L'Chaim," I said, "Funny thing, isn't it?"
A smile touched her lips. "Yes," she said. "It's a Cabaret."
Cabaret
1 oz. gin
3/4 oz. dry vermouth
1/4 oz. Benedictine
2 dashes Angostura bitters
Stir with ice. Strain into a cocktail glass. Garnish with a brandied cherry.