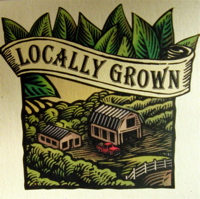 After much hemming and hawing, I decided there aren't enough good reasons not join in next week's Penny-Wise Eat Local Challenge. So, we've committed to spend a week — or, in our case, six days — eating as much as we can from within our foodshed.
As if consuming foods grown or produced exclusively within a short radius of our home wasn't hard enough, we're also doing it on less than $144 a week, plus a mere $8 (!) for alcohol, in an effort to prove that it's possible to be a locavore without spending any more than the average American two-person, two-earner family.
Coming from our house, where we have been known to spend $144 on a single dinner and $8 on one cocktail, this is going to be …interesting. But luckily, we have a gorgeous new kitchen where we love to cook these days. As for dining out, that's one reason for our loose interpretation of the challenge week (the official start of the event isn't until Monday the 23rd): We're attending a benefit for a very worthy cause on Thursday night, and it doesn't feel right to pinch pennies under the circumstances.
I've also done my best to plan meals for this week that are within the grasp of the average American home cook, both in terms of technique and ingredients. I've got a serious edge, living in the Bay Area, where we have so many great local artisans and farmers within close reach, so I didn't want to stack the deck any further by choosing esoteric items or high-falutin' preparations.
As far as exemptions go, I am allowing myself the so-called "Marco Polo rule": I'm not tying myself to local spices, nor small quantities of condiments. Cameron's going to continue to drink his coffee (it's from Peet's, a local establishment) and I feel no need to abandon my nasty Fresca habit. We'll add the cost of these items to our budget, as well as any other non-local items we consume. We're also buying bread that I have to assume is baked with non-local flour, but at least we'll be supporting local artisans.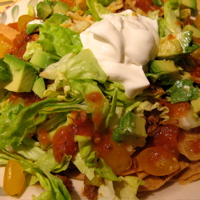 And because some of our favorite items come from slightly further afield, we're going to extend our challenge radius to 200 miles, from the standard 100. But mostly, when we have a choice, we'll opt for a product grown or made as close to us as possible. We'll also be using fruits and herbs from our own garden, so perhaps that will keep our average distance down.
Tonight's dinner was an old favorite, a taco-salad-like dish known in my family as "Walking Tostadas." I sauteed some ground beef in a skillet, added some taco seasonings and a pureed tomato, and simmered. On the plate, the dish is simply a handful of broken tortilla chips, topped with the taco meat, then some shredded cheese, lettuce, salsa, tomatoes, avocado, and sour cream.
Here's how it breaks down…
chips: 1/6 of a bag from Rancho Gordo (Napa / 50 mi) — $1
ground beef: 1 pound Prather Ranch (Shasta / 200 mi)– $6
tomato for puree: Whole Foods "locally grown" (Dinuba / 200 mi) — $0.66
lettuce: 1/2 of a romaine heart: Earthbound Farms (SJ Bautista / 88 mi) — $0.50
cheese: 1/2 wedge raw-milk chipotle cheddar Bravo Farms (Traver / 225 mi) — $1.50
crema: 2oz creme fraiche Bellwether Farms (Tomales / 50 mi) — $1.33
salsa: 2oz prepared Primavera (Sonoma / 50 mi) — $1
avocado: 1/2 a small one, part of a $3 grab bag from Will's (Soledad / 130 mi) — $0.50
grape tomatoes: 1/6 of a large bunch from Balakian Farms (Reedly / 200 mi) — $0.50
(edit: The grape tomatoes were from Bruin Farms in Winters, 65 miles away)
Total this meal: $12.49 with plenty of leftover meat

I'm not going to go into this level of detail all week, I promise. But so far, I've estimated we'll spend a good bit under our budget. Tomorrow's trip to the farmers market will be the real test, but the most expensive items — meat and cheeses — are very predictable.