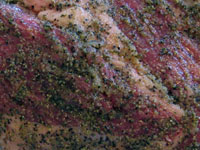 Don Carne is the gangster name of my good friend and sometime bandmate; the "Don" is an honorific. He sports a sticker on his car that says "Animals are tasty." Every now and then he catches a hand-wringing PETA zombie in the act of trying to peel the sticker off. Hilarity inevitably ensues.
The Don also likes to say, "You don't make friends with salad," which is why we all froze in shock when he told us that he was planning to marry a vegetarian. However, such is the power of his meat fu that his lovely bride is now a fan of hamburgers and cheerfully experiments with all but the gooshiest animal parts.
I feel like I've been channeling Don Carne recently. This weekend we had some friends over for a small dinner party and I grilled a slab of Prather tri-tip slathered with a paste made up of roughly equal amounts of garlic powder, pepper, and salt brought together with olive oil. Sear, and then roast on indirect heat until done. Wow, wow, wow. I can't wait to do it again.
Right now, I've got some beef ribs sozzling in a dry rub in the fridge, and they're destined for the grill tonight. Yabba dabba doo, baby!