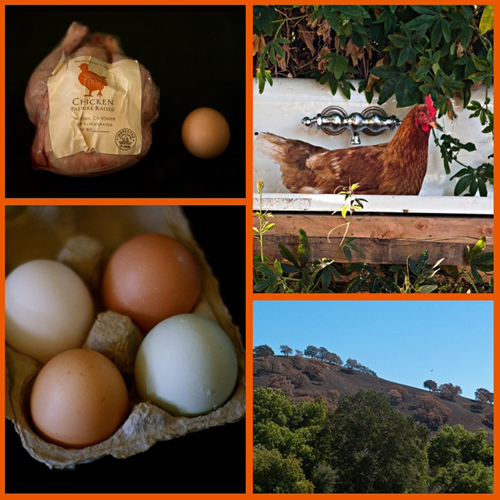 For two weeks each December, bloggers from all over the world offer a delectable array of food-related items for the Menu for Hope raffle. Last year, we raised $62,806 to help the UN World Food Programme feed the hungry. This year, we're supporting a new initiative at the WFP called Purchase for Progress (P4P), which enables smallholder and low-income farmers to supply food to WFP's global operation.
This year's campaign runs December 14 to 25, and every $10 you donate earns you one virtual raffle ticket for the item of your choice. (To learn more, head over to Chez Pim and check out her Menu for Hope FAQ, or read the highlights at the bottom of this post.)
This year, we're offering the following item, also focused on supporting small, local farms:
Bid Item UW02: Locavore Starter Kit
Many readers tell us that they'd love to eat more local foods, but they don't know where to start. So we're making it simple with a Locavore Starter Kit: A trial membership to the Soul Food Farm chicken-and-egg CSA (or another CSA of your choice* if you live outside the Bay Area) and a farmer's market tour with breakfast and local treats.
Soul Food Farm and Married …with Dinner are offering a $100 CSA credit toward the winner's choice of whole chickens, eggs, olive oil, and other farm-fresh goodies. Pick up your winnings all at once, or spread it over multiple pickups: It's up to you how to spend your CSA credit (subject to the usual order terms).
Plus, Soul Food Farm farmer Alexis Koefoed offers a personal tour of Soul Food Farm for the winner and up to 3 guests at a mutually agreeable time in 2010.
We'll also include a personalized tour of the San Francisco Ferry Plaza Farmers Market, complete with breakfast or lunch for two, to help our winner find all the great foods they need to make the leap to la vida locavore.
And if that's not enough, we'll also bring along a bag full of local treats and homemade goodies for you to take home after your walk-around. The bag will include some of our own preserves, and an assortment of treats from local folks — including a bag of brown rice and a jar of almond butter from Massa Organics.
* A special note for non-Bay Area bidders: If the winner's residence is not located within 25 miles of a Soul Food Farm drop point, we'll pay the first month's box charges ($50 maximum) for any Community Supported Agriculture program in the winner's area. And the market tour + breakfast portion is open to any winner, local or visitor, on any Saturday in 2010 (subject to Anita & Cameron's availability). We can ship the goodie bag, but the winner would be responsible for all postage and packing charges.
---
To donate and enter the Menu for Hope raffle: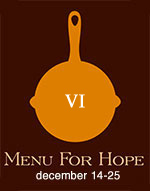 1. Choose bid item(s) from the main Menu for Hope list.
2. Visit the Firstgiving Menu for Hope page; make a donation.
3. Please specify which bid item(s) you'd like in the 'Personal Message' section of the donation form. You must write in how many tickets per bid item; please use the bid-item code. Each $10 you donate will give you one raffle ticket. For example, a donation of $50 can be 2 tickets for UW01 and 3 tickets for UW02 (written as 2xUW01, 3xUW02). The code for our Locavore Starter Kit is UW02.
4. If your company matches your charity donation, please check the box and fill in the information so Menu for Hope can claim the corporate match.
5. Please allow us to see your email address so that we can contact you in case you win. (Don't check the box to keep your address private). Your email address will not be shared with anyone.

Check back here on Monday, January 18,  for the results of the raffle. Good luck to everyone, and thanks for supporting such a worthy cause!