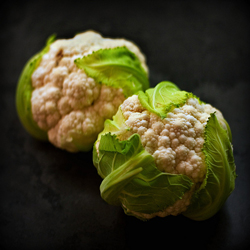 I like to think of myself as a spontaneous person, but I can be… shall we say "resistant"?… to last-minute changes. I'm trying to change, to become a little more flexible, and when I break out of my best-laid plans, oftentimes I'm rewarded.
A case in point: On Monday, I made a delicious-sounding braised brisket from the October issue of Gourmet. I'd been thinking all weekend about how I would document the recipe for this week's Dark Days Challenge meal. I planned photos, even brainstormed ideas describing brisket as the perfect braise for chilly autumn.
But although the brisket itself cooked up to a melting perfection (and the ingredients made for some pretty pictures) the sauce was too tomato-y and sweet, a rather one-dimensional result. Definitely not the sort of recipe I like to share with you here. Luckily, we had a pantry and fridge full of other local options, and another few day's worth of possibilities before the weekly roundup. It took us until Friday night to find a recipe worth sharing, but oh was it worth the wait.
I've started collecting chicken recipes in an effort to keep our weekly CSA deliveries from becoming too mundane. No matter how much we love roast chicken (and love it we do) it's hard for me to work up enthusiasm, week in and week out, for even the most perfectly golden bird. We've got a nice little rotation going: Pan-seared, braised, pot pies, jambalaya, coq au vin — it's all good. But we're always on the lookout for new ideas to keep things fresh.
When I came across this recipe in one of my favorite cookbooks, I couldn't even remember the last time I'd made chicken paprikash. I vaguely recalled a version made with boneless, skinless chicken breasts and low-fat sour cream from my deluded college years. But as we prepped the ingredients, it became increasingly clear that this hearty braise was nothing like the over-stewed, excessively tart rendition of my youth.
Tempted by the rich, spicy smells we'd endured for close to an hour, we dove into our meals. Silence descended on the table, broken only by "wow"s and "mmm"s. As he polished off the last bite, Cameron looked me in the eye and said: "That is definitely a keeper." I was too busy licking my plate to disagree.
Maybe it's the quick dredge in flour that gives the sauce a silky texture. Maybe it's browning the meat in bacon drippings — never a bad idea when it comes to flavor. Maybe it's the addition of fresh frying peppers, alongside the usual dried paprika. Or maybe it's the rich swirl of crème fraiche at the end, instead of garden-variety sour cream. Whatever the reason, this particular version transcends the genre's often-lackluster norm.
There's just one small problem: Like most braises, even the world's most delicious chicken paprikash looks like a pile of mush. Which explains why you're looking at the beautiful Swanton cauliflower that we served alongside our brown, lumpy main course. Our first of the year, each head was the size of a softball at most, and mineral-y sweet. Instead of steaming it as we usually do, we quick-braised the florets in a shallow pan; I'm more convinced than ever that just about every vegetable tastes amazing cooked this way.
If I were making this meal over again — especially if I were planning on photographing it — I might choose a green vegetable for a side dish. But honestly, I don't know how we could have enjoyed it any more.
Chicken Paprikash
- adapted from Kitchen Sense
a 4- to 4.5-pound chicken, cut into 10 even pieces
2T oil
2T bacon fat, lard, or additional oil
1/2 cup all-purpose flour
1 medium onion, chopped
1 large garlic clove, minced
1 large or 2 large small Italian frying peppers, seeded and chopped
2T sweet Hungarian paprika (or a mix of sweet + hot)
1 cup chicken stock
1/2 cup white wine
1 large ripe tomato, peeled and cut into chunks, or 2 canned/frozen tomatoes, cut up
1/2 cup crème fraiche or sour cream
Rinse the chicken parts in cold water, and pat dry. Generously season the pieces with salt and pepper.
Heat the oil and bacon fat in a dutch oven or other heavy, wide pot over medium-high heat. Dredge the chicken in flour, shaking off any excess, and place each piece in the hot fat, skin side down. Fry the chicken, turning as needed, until golden brown on all sides. Remove the chicken to a clean plate and keep warm near the stove.
Reduce heat to medium. Add the onion and garlic and cook until soft but not brown. Add the peppers and continue to cook until soft. Add the paprika and cook for a minute or two until you smell the spice; do not brown or it will turn bitter. Add the stock, wine, and tomato and stir well. Return the chicken to the pot, along with any juices from the plate, and nestle into the vegetable mixture; sauce should come about halfway up each piece.
Cover the pot, reduce the heat to low, and simmer for 30 minutes, stirring occasionally. Remove the cover and simmer until the cooking liquid has reduced by about half and the chicken starts to pull away from the leg bones, about an additional 20 minutes. When chicken is done, remove it to a clean plate. Remove the pot from the heat, and stir in the crème fraiche or sour cream. Taste and adjust seasoning as needed.
Serve the chicken over buttered noodles or spätzle, then top each portion with sauce.
---
Farmers and food artisans who created the ingredients for this week's meal: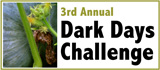 Soul Food Farm, Vacaville: chicken
Bariani, Sacramento: Olive oil
Guisto's Vita-Grain, South San Francisco: flour, sea salt(!)
Catalán Family Farm, Hollister: onions & garlic
Happy Quail Farm, East Palo Alto: frying peppers
Walter Hansel Winery, Russian River Valley: wine
Bellwether Farms, Sonoma: crème fraiche
Eduardo's, San Francisco: pasta
Swanton Berry Farm, Davenport: cauliflower
…and our own home-cured bacon (rendered for fat), home-canned chicken stock, and homegrown tomatoes
Exemptions: paprika, black pepper