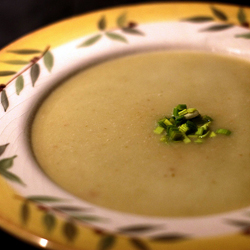 Some weeks — in fact, pretty much every week, if I'm being honest — I spend an hour or two each Friday night planning out the next seven days' meals. I comb through the fridge and make a list of all the bits and pieces that didn't get used up from the last market trip. Then I build a week's menus based on what needs to get used up, and what we're both craving. I almost always leave one or two dinners open either to market inspiration, or spontaneous (read: laziness-induced) dining out.
The only problem with this scheme is that sometimes we find ourselves at home without anything planned for dinner. Usually we're content with something from the freezer — planned leftovers of stew, chili, or other easy-keeping meals  — but this week we still had lots and lots of produce left from our last Mariquita Mystery Box delivery.
A big bunch of baby leeks and a handful of French red fingerling potatoes seemed like the natural base for a hearty, late-fall soup. I've made potato-leek soup before, but this version — where a small amount of bacon gets pureed into the base of the soup, rather than scattered on top — is now my all-time favorite. I can neither confirm nor deny that I ate two full bowls of the velvety, smokey stuff. Served with nothing more than a bowl of chilled radishes alongside and a scattering of the season's first green garlic on top, it made for a perfect impromptu supper.
Potato-Leek Soup
adapted from Emeril Lagasse
1 pound leeks
2 bay leaves
20 black peppercorns
4 sprigs fresh thyme
2 T butter
2 strips bacon, chopped
1/2 cup dry white wine
5 cups chicken stock
1 pound starchy potatoes, peeled and diced
1-1/2 tsp salt
1/4 tsp white pepper
1/2 cup cream
2 T finely minced green garlic, chives, or tender leek greens
Tie together bay leaves, peppercorns and thyme into a cheesecloth bundle or infusing ball. Cut the white part of the leeks lengthwise and rinse well under cold water. Slice crosswise and set aside. Discard the greens, or save for making stock.
In a large saucepan, melt the butter over medium heat; when melted, add the bacon. Cook, stirring occasionally, until the bacon is soft and has rendered most of its fat; do not brown. Add the chopped leeks and cook until softened, about 5 minutes. Add the wine and bring to a boil. Add bouquet garni, chicken stock, potatoes, salt, and white pepper, and return to a boil. Reduce the heat to a simmer and cook for 30 minutes, or until the potatoes are falling apart.
Remove the bouquet garni and puree the soup with an immersion blender (or in batches — carefully — in a standard blender; then return to pan). Stir in the cream and adjust seasoning. Serve immediately, with minced chives or green garlic sprinkled over each bowl.
---
Farmers and food artisans who created the ingredients for this week's meal: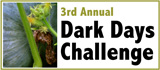 Mariquita Farm, Watsonville: potatoes, baby leeks
Spring Hill Cheese Company, Petaluma: butter
Clover Organic, Petaluma: cream
Page Wine Cellars, Napa: wine
Tairwa Knoll Farms, Brentwood: green garlic
…plus homegrown thyme & bay leaves; home-canned chicken stock; home-cured bacon
Exemptions: Salt, pepper