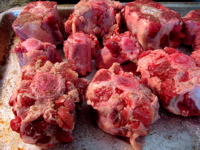 I get a little goofy when it comes to braising, and a lot goofy around variety meats. So when I saw oxtails on sale at our local pan-Asian supermarket for $2.50 a pound on Saturday, I grabbed an armload of whole, skinned tails out of the butcher's case and ran up and down the aisles cackling like Vincent Price while blood dripped on the floor and everyone stared at the crazy gweilo.
At least, that's what I wish I did. The staring part was true, but that happens whenever I go to 99 Ranch because I'm the only bald white guy in there.
I like Mario Batali's oxtail ragu recipe out of The Babbo Cookbook. The picture is of my five pounds salted, peppered oxtails ready to be dredged lightly in flour and thoroughly browned in olive oil in a dutch oven on the stovetop. When the meat was seared, I set it aside on a platter and dumped some thickly sliced onions into the hot oil. When they were brown, the meat went back in with some red wine, Basic Tomato Sauce (Mario again), chicken stock, and thyme. Cover tightly and into the oven at 300 degrees for four hours or so. The cookbook says 375 degrees for 90 minutes, but that's too hot and not near long enough.
When all was loosey-goosey and falling apart, I pulled out the oxtails and picked off the meat. At every moment I was attended by my faithful dogs, overcome as they were by love and devotion for me. The loose meat went back into the cooking liquid and thence into the fridge. Tuesday I'll boil it down and freeze it for low-impact dinners.