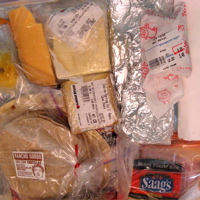 No doubt you've seen inside the fridges of dozens of bloggers over the past couple of weeks, ever since Sam opened her refrigerator to our prying eyes and then invited us to follow suit. Curious sort that I am, I've been enchanted by all of them, but perhaps none so much as Matt's tour — complete with diagrams!
Those of you who lack the snooper gene can skip this link to all our photos, with annotations of what's what. I've documented the contents of my main fridge and freezer — all shelves, all doors and drawers. (The garage fridge is more of the same: stock and pasta sauce in the freezer, beer and wine in the fridge.)
I'm not sure whether I'm proud or ashamed to admit I didn't do any tidying before taking these shots — it's always staged like this. I clean and organize the fridge every Friday night, as part of my weekly meal planning. I toss out anything old, rotate items up from the downstairs freezer as needed, and then work on my recipes and shopping list without having to run back and forth to see what I have on hand.
Feel free to give me grief about the carbon footprint of my Peruvian white asparagus or the sloth implied by pre-sliced cheese… but I'll defend my Clearman's spread to the death.