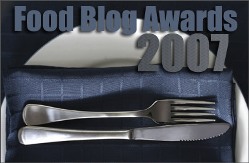 EDIT: A warm welcome to all the folks clicking over from WellFed Network. Our homepage is rather focused on Menu for Hope right now, so here's a quick link to all of our drink-related content.
—–
Right alongside Menu for Hope, there's another big event in the food-blogger community this time of year: Well Fed Network's Food Blog Awards.
Cruising through the categories, I was jumping up and down when I saw so many of our friends recognized for their talents: Jen (Theme and Blog of the Year!), Shuna (Chef and Industry), Sam (City and Photography), Matt (Photography), Biggles (Theme), and the Ethicurians (Group, of course).
And, please, someone tell me how I can possibly choose between my two Seattle pals Molly and Shauna — oh, no, and Shuna again, too?! — in the Best Post category!
So you will understand why I am tickled pink that Married… with Dinner has been nominated as a finalist in the Best Blog Covering Drinks category, alongside a pair of well-known wine bloggers and such august cocktailians as Paul Clarke (the inventor of Mixology Monday) and Jeffrey Morgenthaler (the father of Repeal Day).
Wow. I'm flabbergasted… thank you. As they say in Hollywood: It's truly an honor just to be nominated in such amazing company.
If you'd like to VOTE for your favorites, the polls are open until Friday at midnight.