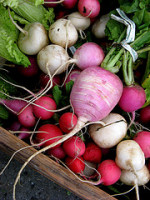 I mentioned my 2006 culinary resolutions in passing last week, and it seems only fair to see how well I managed to pull them off.
I will eat more food that I can trace to its source.
I spent as many Saturday mornings as logistically possible at various farmers markets, and I can honestly say that I could count all of our 2006 trips to Safeway on one hand. We turned to Whole Foods and Tower Market for any needs that couldn't be managed at the Ferry Building.
The experience was, frankly, eye-opening: We've developed relationships with farmers, gotten a much better feel for the rhythm of seasonal crops, and enjoyed observing that — although better food does, often, cost more — we're more satisfied with a smaller quantity of good things as we used to be with an abundance of mediocre stuff.
I will make time for entertaining friends at home.
We did better this year — especially in the summertime, when it's so easy to create an amazing spread from all the great produce — but there's plenty of room for improvement in 2007.
I will find a talented architect to remodel my kitchen.
I will learn where to find better lunch possibilities near my office, and not just lazily fill my belly with convenient crap.
I definitely put my heart into this one, although I can't say I was particularly successful. The best thing that happened to my lunch hour in '06? Hands down, it's the new "Foodie Court" and Bristol Farms grocery at Westfield SF Centre. (I didn't say it's good for my budget, however.)
I will teach the basics to my friends who want to learn to make Thai food.
Well… nobody asked.

I think we got a little Thai'd out after three straight weeks of three five Thai meals a day on Kasma's trip — we probably cooked less Thai this year than any in recent memory. But, once the new kitchen's finished (and we have — hallelujah! — an exhaust fan) I hope that will change.
I will read cookbooks from the library before I buy them.
Boy, did this one take off in a big way. I've had a steady rotation of three (or more) cookbooks checked out all year. My local library makes it so easy! I just find the ISBN on Amazon, paste it into the library's search engine, click "Request", and wait. A few days or weeks later, I get an email telling me my book's on the hold shelf at my local branch.
I'm having so much fun exploring new cookbooks that I'm working on a Bookshelf page so you can peek at what's on my kitchen counter each week. (Please be gentle… I'm still beating my head against the monitor — Amazon and WordPress don't like each other much, so I'm pretty much coding things by hand in my non-existent free time.)
This is the year I will try to cook at least one new recipe a week.
The library-book project pretty much made this a given, although there were definitely good weeks and bad weeks here. Lots of great new recipes made it into our regular repertoire, namely Pear and Arugula Salad, Bleu Cheese Cauliflower Soup, Peach Bruschetta, and Salted Caramel Ice Cream.
I will taste anything that's put in front of me, no matter how 'weird'.
See also: Thailand. And also last week's Drink of the Week.
I will use my new smoker (you know, the one I hope to get for my birthday) often enough to justify its purchase.
I guess we found other ways to spend that particular chunk of money.

I will give my time to the food bank, and not just when my company gives me time off to do it.
I did volunteer (with the office crew) this summer, but never made it over on my own, except when bearing bags of donations. I resolve to do better in 2007.
I will fill my new garden with as many edible plants as possible.
Another rousing success, thanks in large part to the persistence of my wonderful husband. He sourced some gorgeous edible specimens, pouring over Internet resources and picking the brains of some talented local experts. I'm tickled that we have a garden that's as tasty as it is beautiful. Stand by for a citrus update in the next week or so…
We will finally take our long-awaited culinary tour of Thailand.
What a wonderful way this was to start our year. One of my resolutions for 2007 is to finally pare down my 1,500 photos into something manageable, and post them to share. If all goes well, perhaps I can dig up our notes and write a few 'backdated travelogue' posts next month…
How about you? Any food-related resolutions for 2007?
I'm truly curious… this isn't just a lazy way to end the post.