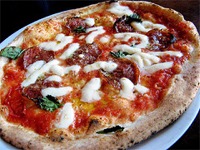 San Francisco, hang your head in shame. Much as I love my City by the Bay, it's never been a good place for pizza. The situation has improved in recent years, thanks to the likes of Pizzeria Delfina (If you can get in. if you want to pay $70 for pizza.), but only barely.
I've always found the situation mystifying–but after today's lunch it's escalated to infuriating. Why, in the foodiest city in the country (hush you homers, I'm pontificating), is it practically impossible to get a decent pizza, when I can sit down to a magnificent Neapolitan pie at a strip mall in Henderson, Nevada?
Settebello has modern Vegas charm, which is to say that it's cavernous, painfully clean, clangingly empty, and so new that you can practically smell the fresh concrete. The sheer size of even the smallest of these commercial spaces dwarfs any attempt at coziness, but Settebello manages to inject some warmth–perhaps it was the overwrought Italian pop music wafting through the sound system. Could have been the Real Madrid game on the widescreen TV. Perhaps it was the friendly staff. Might have been the giant mural of the Bay of Napoli on the wall, or the Italian travel posters. Could it have been the enormous pizza oven?!
The menu is simple, built around Neapolitan pizza. Settebello has been certified by Vera Pizza Napoletana, a distinction that it shares with Seattle's Via Tribunali, among others. We'll pass lightly over the absurdity of creating a committee to preserve taste, but only because the pizza at Settobello is very, very, good. I defiled the purity of my margherita with finocchiona from Salumi, secure in the knowledge that "Variations of pizzas are recognized if they are informed by the Neapolitan tradition of pizzas and are not in contrast with the rules of gastronomy." The pie and its precious cargo were worthy of each other's company. The sauce and cheese were light, fresh, and applied with a gentle hand. The crust wasn't quite as perfect, but according to the folks at Valley Wine and Cheese across the parking lot, there have been some oven issues that needed sorting out. Anita's calzone wasn't as spectacular as my "margherita con…", but was still very good.
Nitpicking. Pure nitpicking. This is seriously good pizza. I can't wait to try the bianca. It will be a sad trip to Henderson that doesn't include a visit to Settebello, and a sad flight back to pizza wasteland that is San Francisco. I shall console myself with carnitas and birria.
Settebello Pizzeria Napoletana
1776 W. Horizon Ridge Parkway
Henderson, NV 89052
702.222.3556