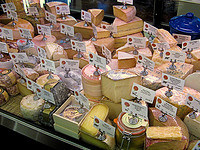 I'm back here in Vegas, and… oh, who am I kidding? I'm back here in Henderson, home of tract houses, chain restaurants, and megamarts. Very nice ones, all of them, but still… a bit prefab. On my last visit, I drove almost 10 miles to the nearest Whole Foods, on the other side of town, in a fit of homesickness. Imagine my disappointment to find rock-hard avocados, bin after bin of out-of-season produce, and sickly looking everything. I guess it was better than Vons, but only just.
So when a friend suggested that I check out a place called Valley Cheese, I was a little skeptical. If even Whole Foods can't deliver the goods in this culinary wasteland, I didn't have much hope that a small shop would do any better. When I found their rather sad website, I was even more suspicious. But — what the hell — I was bored and hungry, and needed an excuse to get out of the house.
Valley Cheese & Wine is the kind of place you could drive right by for months and not even know it's there, set back off the street in what can only be described as an upscale industrial park, adjacent to a construction site. Inside, it's another world: The spacious shop is anchored by a wall of gourmet dry goods — pasta, oils, vinegar, pickles, and such — on one side, and a pair of cold-cases on the other: one with a well-kept assortment of cheese, and another displaying surprisingly robust charcuterie options. The entire center of the store is given over to rack upon rack of wines.
Both of the owners, Bob and Kristin, welcomed me within minutes. When Kristin found out I was a first-time customer, she offered the "nickel tour", a full circuit of their various wares, complete with an explanation of the cheese case schematic ( "East Coast artisans on the left, West Coast on the right, Europe on the lower shelf…") — an obsessive after my own heart, to be sure.
Bob talked about their groceries and salumi offerings, including a half-dozen varieties of Fra'Mani sausage… but nothing from Armandino, alas, due to problems getting their orders filled correctly. He also went to great pains to tell me that everything in the store was hand-selected. They were both adorably proud of their shop, and rightly so.
My only gripe — and it's a very small one — is that they keep all of their cheeses and meats under plastic, both in the display cases, and when wrapped for you to take home. I'm guessing it's difficult to keep artisanal products properly hydrated in the desert climate otherwise, and everything looked and tasted just fine, so perhaps I'm just being irrationally persnickety.
This corner of Henderson's awfully far from The Strip to make Valley Cheese & Wine a side trip for most visitors, but if you happen to be making your escape at Green Valley Ranch or any of the Lake Las Vegas resorts, it's definitely worth a long browse. Just be sure to bring a map.
Valley Cheese & Wine
1770 Horizon Ridge Parkway
Henderson, NV 89012
702.341.8191