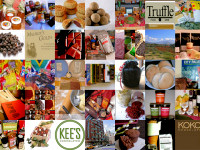 I've appealed to your sense of adventure, your sense of holiday panic, and now I'm going to appeal to your sense of altruism. As you enjoy this season of plenty, couldn't you spare $10 or $20 for the UN World Food Programme? If you haven't already done so — or, heck, even if you have — please head over and buy a ticket or two for the Menu for Hope charity raffle.
If putting food in the mouths of starving kids isn't enough motivation for ya, let me try another tactic: Have you seen some of the things you could win? There are dozens of top-shelf cookbooks, hosted dinners at schmancy restaurants, some really cool culinary art donated by pros, one-of-a-kind treats made just for you, baskets of local ingredients from all over the country, food tours of some of the world's culinary capitals, high-end kitchen gadgets galore, even the chance to meet a celebrity or two. Honestly, I'm having a hard time not bidding on every dang thing on the list!
You might think, with close to $50,000 in tickets already spoken for, that your odds would be slim. But as of right now, you have a 1-in-12 chance of winning our prize… and a 33% chance of taking home at least eight other offerings, including two different prize packages that include the highly covetable Tartine cookbook.
To boost your chance of winning, may I suggest that you check out Sam's cool list of the odds on the prizes donated by West Coast bloggers? Then head over to the donation page and buy a ticket, stat: bidding closes at 6pm Pacific time today.