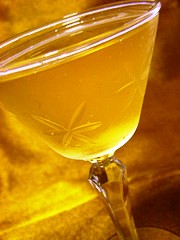 I've had the idea in my head for this drink for a while, but never got around to putting it together. For one thing, I was at a bit of a loss as to how to get all the various flavors I wanted to combine into alcoholic form.
I wanted to create a drink that offered the lushness of pears with the punch of ginger — a classic combo, to be sure. Although I knew I could make (or buy) ginger-flavored simple syrup, I was worried that so much sugar would push the cocktail in a sicky-sweet direction… definitely not my style, especially as I wanted to build off the flavors of my favorite Belle de Brillet pear cognac.
I consulted with my friend Sean — who knows his way around infusions — but he confessed that his sole attempt at ginger vodka turned out rather blah.
While browsing the baking aisle in the last few weeks before Christmas, an idea struck me: What about infusing vodka with candied ginger, rather than fresh? The flavor's already concentrated by the candying process, and the little bit of sugar coating the chunks would dilute in the final mix.
So, I took about 3 ounces of candied ginger chunks, and covered them with a cup of vodka in a lidded jar. After the first day, I was worried — the ginger smelled like pine-scented kitchen cleaner, and the vodka tasted sharp and acid. Ugh. I set the jar aside, and resolved to try another route, after the holidays.
The next morning, I shook the jar, mostly out of idleness. And what do you know: As I rattled the ginger against the glass, I noticed dark, syrupy threads diluting into the vodka. Hm! A quick taste test showed we were definitely making progress. By yesterday morning — 3 days after starting the infusion — the mixture actually tasted like something you'd want to drink.
Last night, I decided to try a test run: Belle de Brillet and candied-ginger vodka stirred with ice, then strained into a tasting glass. Both the pear and the ginger seemed overpowering… but what about that bottle of bubbly in the fridge? I poured the mixed liquors into a small cocktail glass, and topped them with a float of the sparkling wine. Success! The dryness and effervessence neatly cut the sugar and the strong flavors, making for a lovely cocktail with a hint of sweetness and a kick of spice.
The Gilded Pear
1-1/2 oz. Belle de Brillet pear-cognac
1 ounce candied-ginger vodka
sparkling wine
Stir the cognac and the ginger vodka in a bar glass with ice; then strain into a small cocktail glass. Top with the sparkling wine.