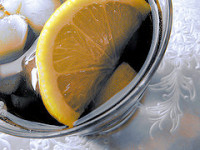 I'll start right off by saying you're just going to have to trust me on this one. I'm sure your first reaction will be the same as mine: A raised eyebrow and a faintly upturned nose. But sneer at your own peril.
At the top of the month, Cameron and I found ourselves at Sutra, attending to the festivities of the office holiday party. Amid cold canapes and hot gossip, we overheard my boss order a Gin and Coke from a passing cocktail waitress.
"Gin and Coke, did you say?" I inquired.
"Mm, yeah." he replied, sensing my skepticism. "Something I used to drink a lot when I lived in Spain."
Hours passed, with conversation lubricated by liberal wine pours (made even more generous by waiters struggling to pacify our large party as we waited far, far too long for entrees). The boss ordered another of his bizarre beverages, and I couldn't help but dig a little deeper.
"So, tell me again how you came to drink this… curious cocktail," I quipped.
By way of response, he simply offered me his glass. One of my culinary resolutions this year was to taste anything once, so I took a tentative sip. And then another. And then a huge grin broke across my face as I realized that this kooky concoction — something that sounds like you'd drink it only in desperation — is surprisingly good. I mean, it's no Manhattan, but it would make a solid option should you find yourself in a bar of suspect mixological credibility.
The instruction continued: "In Spain, they make it with a gin called Larios, which is like Gordon's. Don't mess it up with the fancy stuff — you need a gin with a bit of bite." The garnish? Possibly lime, but more probably lemon to be authentic. (Apparently, they're not much for limes en España.)
One last obstacle remained: "Gin & Coke" is a terrible name, not the least because it sounds, well, rather disgusting. I suggested we christen it with the boss's surname, but he demured.
"Call it the Orpez," he countered, with a wistful tone and a far-away stare. "She's the one who introduced it to me."
La Orpez
1-1/2 ounces gin
Coke
wedge of lemon
Add the gin to an ice-filled rocks glass, then fill the glass with Coke; stir to combine. Garnish with a wedge of lemon, and serve with a jaunty Iberian air.