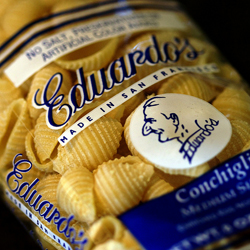 I don't know what it's like at your house, but holiday weeks around here can be a little nuts. Even if we don't have a gaggle of family in residence, there's always some last-minute preparation, either for a landmark meal, a potluck contribution, or an impending trip.
This year, it was the latter — we're off to Seattle for the week after Christmas — so when planning our dinners, we wrestled with the extra complication of creating leftover-free meals. Pasta's always a simple, comforting for Dark Days Challenge meals, but neither of us was really in the mood for our weekly dose of bolognese.
This recipe reminds me a bit of the Pasta e Fagioli with 'Nduja that's become a standard in our kitchen: It comes together in a snap, and it's far more delicious than a simple reading of the ingredients would suggest. But in place of the beans, this version has leafy broccoli (either broccoli raab or broccoli di ciccio work) and the sausage stays crumbly, rather than melting alluringly into the sauce. Any small pasta will do, but I like shells or ear-shaped orecchiette, which catch bits of the sauce in their cups.
Pasta with Leafy Broccoli and Sausage
– adapted from Kitchen Sense
1/2 to 3/4 pound leafy broccoli (broccoli rabe or broccoli di ciccio)
6 to 8oz small pasta shells or orecchiette
1/4 cup olive oil
1 small white or yellow onion, chopped
3 garlic cloves, minced
a generous pinch of red pepper flakes
1T chopped parsley
1/2 pound mild Italian sausage, removed from casings
freshly grated Parmesan-style cheese
Bring 4 quarts of well-salted water to a hard boil. Meanwhile, trim the tough ends from the broccoli, and cut into 1-inch pieces. (You'll want to split the florets lengthwise if you're using di ciccio.) Add the pasta to the water and cook until it's just beginning to soften, about 4 minutes. Add the broccoli pieces and continue to cook until the pasta is al dente. Reserve about half a cup of the cooking water, then drain the pasta well.
While the pasta cooks, saute the sausage meat in a large skillet over medium heat, breaking into small pieces. When browned. remove to a plate using a slotted spoon, and set aside. Add enough olive oil to generously coat the pan (the amount will vary depending on how much rendered fat you got out of your sausage). Add the onion and sweat until soft; do not brown. Add the garlic and the pepper, and cook until softened.
Add the drained pasta/broccoli to the skillet, along with about 1/4 cup of the cooking liquid. Toss the pasta, adding another 2T of olive oil, or as needed to coat the pasta thoroughly. Add the parsley and more of the cooking liquid if needed to give the dish a sauced appearance.
Serve in wide bowls, scattered with grated Parmesan-style cheese. Makes 2 to 3 main-course servings.
---
Farmers and food artisans who created the ingredients for this week's meal: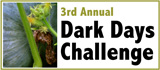 Heirloom Organic Farm, Hollister: broccoli di ciccio
Eduardo's, San Francisco: pasta shells
Bariani, Sacramento: olive oil
Catalán Family Farm, Hollister: onions
Iacopi, Half Moon Bay: garlic
Tierra Vegatables, Santa Rosa: crushed red pepper
Mariquita Farm, Watsonville: parsley
Fatted Calf, Napa: Calabrese sausage
Vella Cheese, Sonoma: dry Jack cheese