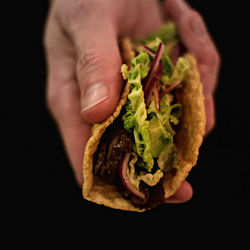 One day a couple of weeks ago, I decided to make a batch of homemade kimchi using an extra head of cabbage I had knocking around. Of course, this simple use-it-up kitchen project required a trip across town to a Korean grocery store for the requisite red-pepper seasoning mixture, but I've got an anti-food-waste streak a mile wide.
In a bit of kitchen synchronicity, I'd been meaning to make our friend Matthew's recipe for Korean tacos — a recent trip to L.A. left us with a hankering for this hipster street chow but unable to stomach Kogi's ridiculous 3-hour lines — and kimchi seemed like a natural accompaniment.
Last weekend at the farmers market, our list was very short. Knowing we were heading off to New Orleans last Wednesday, we really only needed to make one dinner at home. Could we combine our Korean supper with our One Local Summer meal? Turns out, the recipe doesn't require any exotic ingredients, and by stretching our challenge's seasoning exemptions to include soy sauce and a small amount of sesame oil, we were able to source everything we need from within our 100-mile radius.
Of course, the best-laid plans often lead to disappointment, and my first batch of kimchi never really got the hang of fermentation. I tried again a few days later using a different recipe, and although it seemed headed in the right direction, the cabbage never released enough liquid, and the result was dry and funky.
But although I still haven't found a kimchi recipe that works for me, that didn't stop me from including it in our locavore feast. Turns out, there's a locally made brand — King's — that all the nearby Asian markets sell. It's spicy and fresh-tasting, even if it's not as beautiful or as romantic as the homemade sort.
This recipe also gave us a chance to try out the meat slicer we bought a few weeks ago. If you don't have a fancy gizmo like ours, you may be able to ask your butcher to shave the meat for you. Or, you can freeze it briefly (although not until it's completely solid) and use a very sharp knife to cut pieces as thin as possible.
Korean Rib-Eye Tacos
- adapted from Matthew Amster-Burton
3/4 pounds rib eye, sliced paper thin
1T soy sauce
1 to 2T sugar
1T minced garlic
2 tsp Asian sesame oil
1 tsp sherry or mirin
1 tsp water
—
1-1/2 tsp soy sauce
3/4 tsp lime juice
3/4 tsp toasted sesame oil
2 cups shredded romaine lettuce
1 cup shredded Napa cabbage
1/4 cup thinly sliced red onion
toasted sesame seeds
—
chopped avocado
kimchi, Korean red pepper flakes, or fermented chili paste
corn tortillas (6 to 10, depending on size)
Combine the meat with the rest of the marinade ingredients, and refrigerate for between 2 and 24 hours. Bring meat to room temperature, then cook under a broiler or in a well-heated skillet. If needed, chop into smaller, taco-friendly pieces.
Whisk together the soy sauce, lime juice, and toasted sesame oil. Toss the lettuce, cabbage, and red onion in a large bowl with half of the dressing. Add more dressing to taste, then garnish generously with sesame seeds.
Warm the tortillas over a gas burner or in a dry skillet. Top with meat, slaw, avocado, and your choice of spicy condiments.
---
Farmers and food artisans who created the ingredients for this week's meal:

Marin Sun Farms
, Point Reyes: Grass-fed pastured rib-eye steak
Hunter Orchards
, Grenada: Garlic
Paradez Farms
, Exeter: Limes
Marin Roots Farm
, Petaluma: Romaine
Dirty Girl Produce
, Santa Cruz: Cabbage
Mariquita Farm
, Watsonville: Red onions
Will's Avocados
, Soledad: Avocados
Primavera
, Sonoma: Corn tortillas
King's
Asian Gourmet
, San Francisco: Kimchi