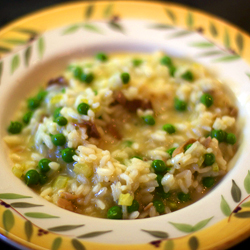 One of the greatest pleasures of growing your own food is standing next to your plot — preferrably while still in your pyjamas — and nibbling on the tenderest first bits of your harvest. I don't think I'd be exaggerating if I said that Cameron and I probably ate a quarter of our shelling-pea crop in just that way. And even though it cut down dramatically on the number of peas that actually made it to the kitchen, I wouldn't change a thing.
For this week's One Local Summer meal, we enjoyed the last of our pea harvest in one of our favorite recipes, a risotto so deliciously savory that we've made it three times already this year. We've got another batch of peas already slinking their way up the trellis — courtesy of our mild summers, we get to enjoy spring crops nearly all year long — and already I am counting the days until we can make this simple supper again. Because although it's fine with the regular farmers-market ingredients, it truly becomes its very best when made with tiny, super-sweet, just-picked baby peas.
Risi e Bisi (Venetian Style Pea Risotto)
- adapted from Molto Italiano
2T extra-virgin olive oil
1 shallot, chopped
1 celery rib, chopped
1 oz prosciutto, cut into in 1/8-inch dice
3/4 cup Arborio or Carnaroli rice
1 quart chicken stock, warmed
1 cup shelled fresh peas
2T butter
1/4 cup grated hard cheese, such as dry Jack or Parmesan
salt and pepper
Heat the olive oil in a tall-sided 10-inch skillet or saucier pan. Saute the shallots, celery, and prosciutto over medium heat until soft, about 8 minutes. Add the rice and stir for 2 minutes, until the grains become opaque. Add enough stock to just cover the rice, and stir until stock is absorbed. Continue to add stock a ladleful at a time, waiting until most of the liquid is absorbed before adding the next bit. Taste the rice, and season with salt and pepper. Add peas and cook for 4 minutes, until peas are just tender. Remove from heat, add butter and cheese, and stir until just melted. Serve in warmed shallow bowls.
---
Farmers and food artisans who created the ingredients for this week's meal:

Bariani
, Sacramento: Olive oil
Dirty Girl Produce
, Santa Cruz: Shallots
Catalán Family Farm
, Hollister: Celery
Boccalone
, Oakland: Proscuitto cotto
Lundberg Family Farms
, Richvale: Eco-farmed white Arborio rice
Spring Hill Cheese Company
, Petaluma: Butter and Dry Jack cheese…plus our own homemade chicken stock, made from
Marin Sun Farms
and
Soul Food Farm
chicken bones and our own homegrown English shelling peas