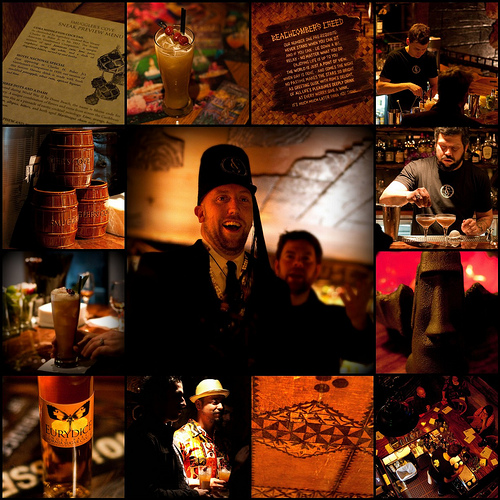 Every time we used to go to Alameda's Forbidden Island, we sighed and wondered what it would take to convince its proprietor, Martin Cate, to open a bar like this closer to our house. It took a while, but our rum-soaked dreams have come true.
If anything, Smuggler's Cove may turn out to be even more amazing than its East Bay cousin. Sure, there's no outdoor patio (but really, given the shortage of sunny San Francisco days, I doubt we'd miss it), and the small space has the potential to get awfully crowded. But that wasn't the case at last night's media preview, where a handful of cocktail writers got the chance to sample five drinks out of the 80-plus offerings that the bar will serve come next Tuesday's opening night.
What sets Smuggler's Cove apart from the tiki pack is its focus on top-notch bartending talent (Martin's gathered an enviable collection of West Coast heavy hitters), quality ingredients, and solid technique. It's a serious rum-focused bar with retro-tropical decor, but there's refreshingly little of the tongue-in-cheek cheesiness that you might expect. (Don't get me wrong, I love me some ooga-booga. But I like a well-made, properly measured cocktail even more.)
And speaking of well-made cocktails, there were many to sample last night. A favorite of many guests, the Chadburn — rum, tawny port, pear liqueur, and a dash of Xocolatl Mole Bitters — takes its name from the gizmo that telegraphs changes in speed from the ship's bridge to the engine room. The Hotel Nacional Special, which made its debut in 1939′s Gentleman's Companion, combines pineapple, silver rum, apricot liqueur, and lime. Three more drinks — the frothy Cora Middleton, a spicy Three Dots and a Dash highball, and the island standby of J Wray & Ting — rounded out the night's abbreviated menu.
The space itself is a marvel. The main level features a one-man bar that's as snug and seemingly as well-designed as a yacht, surrounded by a handful of barstools and two walls of rum, rum, and more rum (and a few select spirits). Overlooking the main bar, an inviting balcony area — decorated with the requisite thatch walls and colorful puffer-fish and net-float lights — clusters armchairs around tables made to resemble old rum crates. Down a flight of ship-like stairs, a larger bar — comfortable enough for two shakers and a barback — boasts an even-larger array of rums. A low-ceilinged sitting area manages to feel cozy rather than claustrophobic, in part due to a two-story water feature that rises back to the entry.
A series of sold-out friends-and-family preview nights are scheduled for this weekend, with opening night slated for next Tuesday, December 8. It's sure to be difficult to get a seat for weeks to come, but I know that once the crowds die down a bit, we'll be dropping anchor in this cove quite often.
Smuggler's Cove
650 Gough Street
San Francisco, CA 94102
415.869.1900