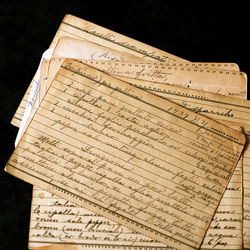 We've always called it "Grandma Anne's stuffing", but one year I discovered the recipe for our favorite Thanksgiving side-dish is much older than we knew.
When my grandfather passed away, I inherited his mammoth recipe box. Buried amid a slew of tortured 1970s-era gourmet recipes were a small, weathered stack of old recipe cards, written in a puzzling mixture of English and Italian (sometimes combined in one dazzling portmanteau, like  "saurcraoti"). Most of the recipes were neatly lettered in a spidery convent hand on old ledger cards, but a few were obviously cut from the bottom of longer letters from my great-grandmother, Annunciata, to my grandmother, Anne; the back sides of the recipes offer snippets of a longer, advice-laden conversations at the very beginning of her marriage to my grandfather.
One such card, titled Impieno per Gallina (hen stuffing) is dated "1939 NY", and bears an incredibly strong resemblance to our family's traditional Thanksgiving stuffing. The quantities are smaller — even a big chicken wouldn't need the giant bowl of filling that a turkey requires — but the ingredients are unmistakable: onion, celery, Parmesan, sage, and a pinch of nutmeg.
Now, I realize that it's impossibly foolish to offer you my family's stuffing recipe, heirloom or not, because everyone I've ever met is fiercely loyal to their own traditional ideas of Thanksgiving fare. And while you may be able to get away with adjustments to the turkey, or to any number of other side dishes, most people would rather fight than switch when it comes to the dressing. But just in case you're game for starting a new tradition, feel free to borrow ours.
Great-Grandma Ciata's Turkey Stuffing
1/4 to 1/2 pound bacon, diced fine
1 small onion, chopped
2 cloves garlic, minced
2 cups finely chopped celery
1/4 cup chopped parsley
bread from 1-1/2 loaves, cubed and dried (4 to 5 quarts)
2 cups chicken stock or turkey broth
1/4 cup shredded Parmesan or other dry cheese
2T fresh sage, minced
dash of nutmeg
In a cold frying pan, place the bacon, onion, garlic, celery, and parsley. Saute over low heat, being careful not to brown. Remove from heat.
Meanwhile in a large bowl, moisten the bread cubes with the stock/broth. Add the cheese, sage, nutmeg, and salt and pepper to taste. Combine with the bacon mixture, then bake in the bird, in a foil-covered casserole, or in a slow cooker.