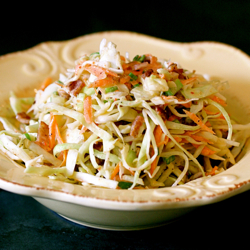 A couple years ago, I decided my cookbook addiction had gotten out of hand, so I put myself on a strict "diet": No new cookbooks unless I'd tried them out first and fallen in love. If I checked out a book from the library and it sat on the counter for 3 weeks without piquing my curiosity, back it went… without being added to the permanent collection.
The new process works remarkably well: I think we've added maybe six cookbooks to our stacks in the last three years — when I used to order half a dozen at once without even blinking — and all of them are in heavy rotation on the main cookbook shelf, not languishing away unloved.
Sometimes it's hard to get my hands on a book for a test-drive; I must've waited 8 months on the reserve list for a copy of From My Home to Yours. (And no, much as I thought I had to have it, it didn't make the cut. I'm just not much of a baker anymore.) Sometimes I have to borrow books from far away via interlibrary loan; luckily, I can do it all online, and pick up my loot at the library near my office when the mood strikes.
One book, though, I couldn't find anywhere. Not only did the San Francisco Public Library system not have a copy of Cooking Outside the Box — a pretty rare thing, even with newer books — but no library in all of California has a circulating copy. Nobody had even blogged it, so I had no idea if it was any good. I decided to suck it up and buy a copy, rationalizing that $16 was pretty safe bet when it came to a cookbook aimed so squarely at my demographic: Easy, seasonal, organic.
Turns out, my hunch was right. The book — written by the founder of Abel & Cole, Britain's top organic produce-box service — breaks down into four seasons' worth of inspiration. His precious measurements are a bit loosey-goosey for my taste (How much is a "1/3 of a mug" of bacon?) and the often-vague directions will be confusing if you're not an adept cook. Although the recipes offer both metric and American measures, you need to be the sort of cook who's charmed, not frustrated, by British-isms like: "Your neighbour has stuffed surplus courgettes through your letterbox." (Happily, I am.)
But all in all, every recipe I've made from the book has turned out just wonderfully, despite the lack of hand-holding. They're mostly quite simple preparations, but usually include one perfectly fabulous tweak. Like bacon… in cole slaw. God love that British ingenuity.
Abel & Coleslaw
- adapted from Cooking Outside the Box
1/2 head cabbage, shredded fine
1 carrot, peeled and grated
3 green onions, trimmed and thinly sliced
3 to 4 strips of bacon, fried until crispy and chopped
1/3 cup mayonnaise, preferably homemade
1 tsp cider vinegar
salt and freshly ground pepper
Mix the mayo and vinegar together in a large bowl. Add the vegetables and bacon, and stir well to combine; taste and adjust seasonings as needed. If time permits, chill 30 minutes before serving.