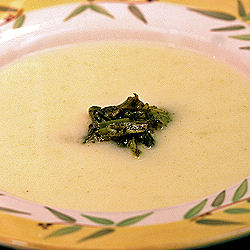 I don't know about you, but it seems lately like my life is exploding with insanity. It's not just work, either; it's home and dogs and life in general. It's all rush-rush, crazy nonstop chaos… and it's not even the holidays yet.
I knew things had gotten out of hand when I realized we hadn't seen Paul & Sean — friends we saw nearly every week in the summertime — in more than a month. Worse yet, we hadn't hosted a dinner party in so long that I couldn't even remember who had come, or what we'd served. Clearly, something had to give.
Now, the last thing any frenzied soul needs in the midst of a swirling storm of busy-ness is the stress of planning a soirée. So we resolved to keep things simple: A small guest list, a casual menu, and an early start time so as not to keep folks up late. Ah, autumn entertaining… the very best kind, don't you think?
Contorting our weekly menus into the Dark Days Challenge hasn't been much of an effort, truth be told. But then, it's hard to feel too smug when your whole meal plan involves soups, pastas, and meat-potatoes-veg plates with a green salad to start. Weekday dining is pretty fanfare-free at our house, and we like it like that.
But for company, it seemed like a nice touch to try at least one recipe that was just a little more haute than humble. For months, my recipe file has held a strange-sounding starter — Leek & Potato Soup with Melted Leeks in Ash — from rising star chef James Syhabout (of PlumpJack Cafe fame when the article debuted, now chef de cuisine at two-star Manresa… ooh-la-la!). Just as I'd hoped, the soup was special but not too fancy for the casual entree of braised lamb alongside bean-and-rice salad. And then there was that dreamy spice cake, frosted with icing made from local cream cheese and butter… a lovely kickoff to fall, if I do say so myself.
Thanks to the generosity of party guests Cookie and Cranky, we are now in possession of a bag each of whole-wheat flour and cornmeal, both grown by Full Belly Farm in Capay Valley. And — wonder of wonders — I found locally made dried pasta. Although neither organic nor sustainable in any discernible fashion, Eduardo's Pasta Factory could hardly be more local: They're just over the neighborhood line in Bayview, pratically visible from our back deck. Better yet, they make a pretty nice assortment of pasta types; this week we bought rotini, linguine, and penne, and there's a few more shapes awaiting our next shopping trip. All in all, a good week for local carbs.
New to our pantry this week, sorted by distance:
Eduardo's Pasta Factory dried pasta – San Francisco
Molinari Sicilian-style hot Italian sausage – San Francisco
Mastrelli house-made cheese raviolini – San Francisco
Divinely D'Lish granola – San Francisco (+local farms)
Guittard milk chocolate chips – Burlingame
Amy's Organic canned split pea soup – Petaluma
Jimtown Store deli artichoke spread / pasta sauce – Healdsburg (Sonoma County)
Alexander Valley Gourmet Manhattan-Style Pickles – Healdsburg
Full Belly Farms certified organic flour and cornmeal – Guinda (Capay Valley)
Sierra Nevada Cheese Gina Marie cream cheese – Willows (near Chico)
Last week's Dark Days Challenge meals included:
Beef stroganoff
- Prather Ranch beef chuck, Far West Fungi white mushrooms and dried porcini, Eatwell onions, Clover Organic sour cream, homemade stock
- Eduardo's Pasta Factory rotini and Dirty Girl haricots verts
Sunday lunch with friends
- Leek-Potato Soup: Little's potatoes, Eatwell leeks, homemade veggie broth
- Braised Lamb: Marin Sun Farms leg of lamb, Hedonia preserved lemons, Eatwell onions, Chateau Souverain sauvignon blanc, homegrown thyme, Happy Quail roasted peppers
- Bean & Rice Salad: Eatwell onions, Happy Quail sweet peppers, Rancho Gordo beans, Massa Organics brown rice
- Raita: Hamada cucumber, Chue's cilantro, Redwood Hill goat yogurt
- Spice cake: Gina Marie cream cheese and Clover Organic butter, Alfieri almond brittle
- Wines: Chateau Souverain syrah, Merryvale Starmont sauvignon blanc
Soup & salad
- Pasta Fazool: Home-canned Mariquita tomatoes, Rancho Gordo heirloom beans, Fatted Calf pancetta, homemade chicken stock
- Pear salad: Little's lettuce, Apple Farm pears, Point Reyes blue cheese, Glashoff walnuts, Bariani olive oil, O vinegar
Stacked chile verde enchiladas
- Prather pork, Quail Hollow chiles and tomatillos, Eatwell onions, homemade stock, Rancho Gordo tortillas and beans, Spring Hill colby-jack cheese
Friday (…is always pasta night)
- Mastrelli ricotta raviolini topped with Hedonia marinara sauce
- Molinari hot Italian sausage, grilled
- Salad: Little's lettuce, Glashoff walnuts, Three Sisters Serena cheese, Chue's green onions, Bariani olive oil, O vinegar
- Rosenblum 2005 San Francisco Bay Zinfandel (from Alameda!? Who knew!)