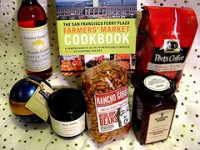 No need to book a plane ticket, or shop for an expensive hotel room. As part of this year's Menu for Hope food blogger charity raffle, "Married …with Dinner" will send one lucky winner everything she needs to take a foodie's tour of the San Francisco Bay Area from the comfort of her own kitchen!
Your "Armchair Food Tour of the San Francisco Bay Area" includes taste-tempting treats from four Northern California counties.
The first stop on our tour is San Francisco, where we pick up:
- a copy of the Ferry Plaza Farmers Market cookbook
- a 4.25-oz holiday ornament filled with assorted Ghirardelli chocolates
We cross the bay to Berkeley, and sample:
- a 3/4-pound bag of Peet's Coffee limited-edition Holiday Blend
- a 13.5-oz. jar of Scharffen Berger Pure Dark Ganache Chocolate Sauce
- an 8-oz. pot of June Taylor Blackberry Conserve
Then over the Golden Gate Bridge to the Wine Country, where we find:
- a 1-pound bag of Rancho Gordo "Ojo de Tigre" heirloom beans
- a 12.5-oz. bottle of Sonoma Syrup Company's Eureka Lemon simple syrup
The total value of this gourmet gift basket is more than $75! Your winning bid includes FREE shipping to any address in the continental US. [If you live beyond the 48 states, we'll foot bill for shipping up to $25. Please contact chef (at) marriedwithdinner (dot) com and we'll estimate shipping charges for you, if you're interested.]
This raffle prize is CODE UW-34. (Write that down… you'll need it later.)
Enough of all that!! How do you qualify to win this glorious prize? It's SOOO simple: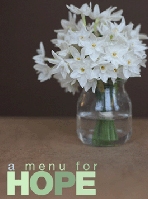 Check out the other cool items available on Becks & Posh, and Chez Pim. (We know you want OUR prize, but you might want to bid on others, too … you generous foodie, you.)
Go to the donation page for Menu for Hope III. This year, funds raised will go to support the United Nation's World Food Programme.
Make a donation! Each $10 pledge will give you one virtual raffle ticket toward a prize of your choice. Please specify which prize or prizes you'd like in the 'Personal Message' section in the donation form when confirming your donation. Don't forget to mention how many tickets you want to allot per prize, and please use the prize code — for example, a donation of $50 can buy 2 tickets for UW-01 and 3 for UW-34 (our prize, natch).
If your company matches your charity donations, please remember to check the appropriate box on your submission and fill in the information so Menu for Hope can claim the corporate match.
Please also check the box that allows the contest gurus to see your email address so that they can contact you in case you win. Your email address will not be shared with anyone.
Check back on Chez Pim on January 15, when Pim will announce the result of the entire raffle. (We'll also announce the winner of the Armchair Food Tour here.)
Good luck to all! And thanks for helping support a worthy cause.