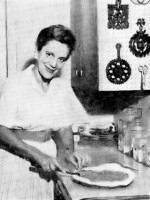 Apparently, Mom's been keeping secrets from me.
I never knew until a few years ago, when Mom gave me a few of his carbon-steel knives, that her grandfather, my Great-grandpa Vivaldelli, had been a chef. And, although I knew that Mom's mom, my Grandma Anne, was a dedicated cook, I never knew a thing about Angel Pie.
Mom and I were sitting around after Thanksgiving, talking about pies in general, and old-fashioned pies specifically, when she first mentioned it.
"Auntie Pat makes it all the time," she said. "I need to get the recipe from her."
And then, almost as an afterthought: "I have a newspaper clipping somewhere with a picture of Grandma and that pie. It was her specialty."
Sure enough, the next morning, a yellowed clipping from the Glendale News-Press appeared at my place at the breakfast table. And there's Grams, in a shirtwaist dress, cutting a slice of her popular — but, one must admit, rather homely — Angel Pie. The iron trivets now in my mom's kitchen (and my own) are hanging on the wall behind her, and familiar glass canisters line the counter.
November 14, 1959
No Weighty Problems for Reiks
Imagine a family with no weight problems that can eat all the dessert it wants. This is the case of the Robert C. Reiks and their four children, Nancy, 18; Toni, 15; Bob, 13; and Patty, 12.

Mrs. Reik (Anne), whose father was a chef for leading hotels in Chicago, has taught her three daughters to cook … any one of them can prepare a meal. Mr. Reik, an amateur chef, confines his art to the backyard barbecue.

Mrs. Reik's current hobby is making braided woolen rugs. She has always collected recipes, and says her Chocolate Nut Angel Pie hits the jack pot [sic]. She keeps copies to offer friends because once a person tastes this dessert, he wants the recipe.
I have to suspect the author took a few liberties. I can't imagine that Grandma never taught my Uncle Bugs to cook. And — at least by the time I was around — Gramps certainly never confined himself to the barbecue… he was quite an accomplished cook!
But, at least she got the recipe right:
Chocolate Nut Angel Pie
1/2 cup sugar
1/8 tsp. cream of tartar
2 egg whites
1/2 cup chopped walnuts (or pecans)
3/4 cup semi-sweet chocolate chips
3 T hot water
1 tsp. vanilla extract
1 cup heavy cream, whipped
Butter a 9-inch pie plate, and set aside.
Sift sugar and cream of tartar together. Beat egg whites until stiff, but not dry. Add sugar gradually, while continuing to beat until smooth and glossy.
Line the prepared pie plate with this mixture. Keep center hollowed out to 1/2-inch thickness, and do not spread meringue on rim of plate. Sprinkle with nuts.
Bake in slow oven, 275º F, about 1 hour, or until delicately browned and crisp to touch. Cool thoroughly.
Melt chocolate in a large bowl over a pan of simmering water. Add 3 T hot water to the chocolate, and stir; cook until thickened. Remove from heat and cool slightly. Add vanilla, then fold in whipped cream. Turn into meringue shell. Chill 2 to 3 hours, or until set.