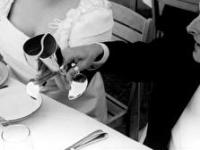 When I heard that this month's Wine Blogging Wednesday would tackle non-Champagne sparkling wines, I realized that we had the perfect excuse to crack open a bottle of bubbly this week.
Friday marks the fifth anniversary of the evening when That Cute Bald Guy asked me to marry (…with dinner) him. I'm sure we drank plenty of sparkling wine that night, although the details of its origin are lost to the mists of time. But I do have one particular memory of that winter's wedding planning.
As we sorted through all the wedding details, we realized we had no idea which bubbly we could afford to serve to a crowd without sending our wine-snob friends rushing for the exits. So, we did what any budding foodies would do: We bought a few dozen bottles of under-$20 sparklers, whipped up some nibbles, and invited a gaggle of friends over to help us taste.
As you might expect, we had a blast. In the end, there were plenty of very nice bottles consumed, but a clear winner emerged. And so, the bubbly with which our friends and family toasted our vows the next summer was the Roederer Estate Brut ($17 at BevMo). As an added charm, this bubbly's made with grapes grown in Sonoma's Anderson Valley, right around the corner from the vineyards where we were married.
And although it's affordable enough to serve to scores of your nearest and dearest, it's also become our house sparkler, a little touch of luxury that's fun to keep on hand just for ourselves. It's delightful with a thimbleful of liqueur as an aperitif, mixed into Mimosas for brunch, or as a little splash of holiday sparkle all on its own.
Keep a bottle on hand, and I'm sure you'll find something lovely to celebrate…