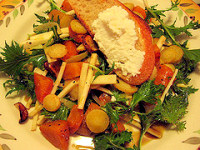 Over on My Life as a Reluctant Housewife, Gabriella invited us to share favorite autumn salads. When I read her post, my first thought was of Autumn Vegetables with Goat Ricotta, a complicated concoction I'd seen in the Babbo Cookbook featuring an array of fall veggies tossed with prickly lettuces and garnished with a both a dressing and two flavored oils.
We hunted the farmers' market for sunchokes, celery root, parsnips, and golden beets (to substitute for the squash neither of us likes), then tackled all of the mise en place — making sage oil, braising the beets, and roasting the sunchoke slices with cumin — over the course of a few evenings. Imagine our letdown when we tasted it, and found the flavors rather blah.
It wasn't a total loss: The cumin-roasted sunchokes are good enough that I'd make them separately as a side dish. And crostini smeared with Cowgirl Creamery sheep's ricotta… what's not to like? But this is a tease of a dish: A ton of work for relatively little payoff; a gorgeous, show-stopping plate with no soul.
The next night, I was casting about for a way to use a tiny smidge of guanciale from Fatted Calf, too small to be used in a main course, but too large to waste. Flipping through my recipe clippings, I noticed an appealing salad from the September issue of Gourmet. Substituting pecorino for the ricotta salata, and replacing pancetta with guanciale, I actually had everything on hand that I needed to make this delicious autumn salad… one that's hearty enough that you'll enjoy eating it on a chilly evening, and simple enough to make on a whim.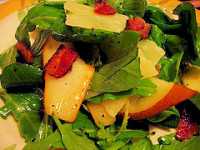 Pear and Arugula Salad
1 T Champagne vinegar
1 T honey
1-1/2 tsp. lemon juice
salt & pepper, to taste
3 T olive oil
–
2 oz thinly sliced guanciale
1 T olive oil
1 firm-ripe pear
4 cups baby arugula
3 oz. pecorino romano, thinly shaved
Whisk together vinegar, honey, lemon juice, salt, and pepper in a salad bowl. Add oil in a slow stream, whisking until well emulsified.
Cook guanciale in a 10-inch heavy skillet over moderate heat, turning frequently, until just crisp. Transfer to paper towels to drain, and crumble into bite-size pieces.
Halve the pear lengthwise, core it, and cut lengthwise into 1/4-inch-thick slices. Add pears to dressing along with arugula, cheese, and guanciale, tossing to coat.
Serves 4.