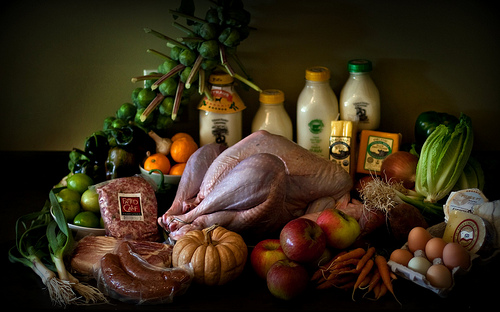 With all the hullabaloo about 100-mile Thanksgiving, I'm going to go out on a limb and say that this is possibly the easiest Dark Days Challenge week of the year. Maybe it's because we've done this for three years now, and our holiday menu rarely changes much. Maybe it's because nobody thinks it's odd to plan this particular meal far in advance, including ordering the main course well before the first leaves turn colors. Maybe it's because Thanksgiving is one of the few times each year when Americans eat with the seasons, whether they're aware of it or not. But to me, planning a locavore Thanksgiving celebration isn't just fun, it's also pretty simple.
My mom, sister, and brother-in-law joined us this year, and our family feast included a big pasture-raised bird from Bill Niman's BN Ranch, with all the traditional sides: Shredded brussels sprouts sauteed with bacon, mashed potatoes and gravy, Grandma Anne's stuffing, and a new-to-us recipe for sweet potatoes that kicks the usual sickly-sweet toppings to the curb with thyme and a dash of red pepper. And it wouldn't be Thanksgiving without a big slice of pumpkin pie to round out the food coma. (I don't like pumpkin, but I'll boldly claim once again this pie will win over even the most vehement squash haters.) Our only non-local dishes were two bowls of cranberry sauce — one plain, one fancy — but since our friend Jeanne bought the berries direct from the Cape Cod farmer who grew them and toted them home in her carry-on bag, I'm not going to lose a lot of sleep over this little lapse.
Some in our family would say that the best part of Thanksgiving is actually the leftovers, including turkey/pork-sausage hash with poached eggs, a riff on Chuck's holiday turkey gumbo (made with local Dungeness crabs in place of shrimp), and of course good-old turkey sandwiches on delicious homemade bread.
Farmers and food artisans who created the ingredients for this week's meal:
BN Ranch, Bolinas: Heritage turkey
Mariquita Farm, Watsonville: russet potatoes, sweet potatoes
Balakian Farms, Reedley: pumpkin
Dirty Girl Produce, Santa Cruz: shallot
Catalán Family Farm, Hollister: onions
Fatted Calf, Napa: bacon
Spring Hill Cheese Company, Petaluma: butter
Guisto's Vita-Grain, South San Francisco: flour (pie crust, stuffing bread)
Clover Organic, Petaluma: cream
Vella Cheese, Sonoma: dry Jack cheese
Iacopi, Half Moon Bay: brussels sprouts, garlic
G&S Farms, Brentwood: corn (stripped and frozen in August)
Bariani, Sacramento: Olive oil
Soul Food Farm, Vacaville: pastured eggs
Hamada Farms, Kingsburg: clementines
Fleur, Napa and Mackenzie, Sebastopol: wine
…and our own homegrown sage, parsley, celery, and thyme
Exemptions: Salt, pepper, sugar, yeast, nutmeg, cinnamon, cranberries (hand-carried from Massachusetts by Jeanne)