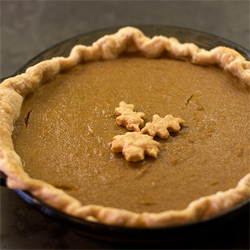 Apparently, I am not equipped to exist on 5 hours of sleep every night for an entire month, which is what happens when you try to hold down a job, tackle a little freelance work, keep a house in order, cook most meals at home, and blog every single night. But even though I failed at NaBloPoMo, I really did have a blast trying to keep my head above water. Despite the blog-silence, our week has been filled with all kinds of wonderful things to eat and drink… fodder for future posts, I promise, as we return to a slightly saner schedule in December.
The highlight of our week — like many of yours, I suspect — was our big Thursday feast for Thanksgiving. This year, we managed to wiggle out of all of our family obligations, so it was just the two of us: No marshmallow-topped baked yams or gelatinous cranberry sauce (nor any of the other stuff neither of us likes) and no giant spreadsheet to track food miles. We still ate 100% local, but with a much smaller, simpler menu, we didn't need to document with such precision.
I picked up our turkey — a burlap-wrapped 18-pounder from Napa's Hudson Ranch, sold to us by Tayor at the Fatted Calf — at the Tuesday Berkeley Farmers Market. This squat little guy was so muscular we didn't even need to truss the legs to keep them tight against the carcass. Although all we did was salt it the night before and slather it in butter, describing its taste sounds like a cliché: Moist and tender, yet full of deep poultry flavor. And the rich drippings made some of the most delicious gravy we've ever had.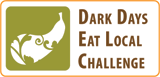 To go with the amazing turkey and gravy, we peeled and mashed many pounds of creamy La Ratte spuds from Mr. Little, mixed with butter from Spring Hill and Straus Family cream. Stuffing was the usual family recipe, with Fatted Calf bacon, Eatwell celery and parsley, Catalán onions, Acme bread, and our own home-grown sage and home-made chicken stock. There was corn from The Peach Farm — which I zipped and froze a few weeks back — and a bottle of Five Russians Pinot Noir from Sonoma. For dessert: Pumpkin pie made from local organic pumpkin, eggs, and dairy, in a crust of local flour (a blend of Eatwell and Giusto's), Clover Organic butter, and Prather leaf-lard.
With only two of us to tackle a family-sized turkey, we cut off a whole breast, leg, and thigh, and vacuum-sealed them for the freezer; somewhere down the line there's another round of turkey dinner (and leftovers!) in our future… what a way to stock up for winter!
The rest of our luxurious long weekend, we've spent tackling other Dark Days-related projects. Cameron's been hard at work on building and filling our new raised beds, and we may even get a few starter crops in the ground before the new year. I've been pickling and preserving — a few quarts of chicken stock and turkey broth, some pickled jalapeños, and a batch of pub onions. After the canners were put away, I reorganized our freezers in preparation for laying down a few last supplies for the winter.
This week's trip to the farmers market was pretty light, since we'll mostly be eating an assortment of yummy bits and pieces from deep storage. Although a week of freezer fare may sound rather dreary, after four days of nonstop cooking and turkey leftovers, I'm really looking forward to a few meals where the hardest part is defrosting the main dish and making a big salad.
This year, I am especially thankful for:
- My wonderful husband, who takes care of me and our home with such obvious affection.
- Our family, who understand our need to take a break from the festivities now and then.
- Our social circle, whose hospitality and friendship keep us sane and happy.
- Our readers and blog pals, who encourage us and inspire us.
- Our amazing City, where we count ourselves lucky to live every day.
- Our region's hard-working farmers and food artisans, who provide us with the world's most amazing array of edibles.