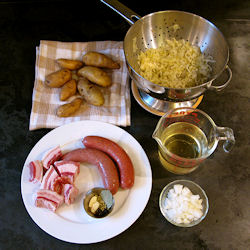 Along with our annual cassoulet, one of our favorite mid-winter traditions is simmering up a big pot of choucroute garnie — literally, garnished sauerkraut — in the Alsatian tradition. (Leave it to the French to come up with the brilliant idea of taking a delicious-but-homely pile of fermented cabbage and garnishing it with a pile of pork products.)
Every French traiteur worth his salted pork products keeps a giant crock of choucroute cru on hand, and it's to this raw mixture that cooks will add their preferred mix of meats, wine, and seasonings. Here in the States, we have to look a little harder for the good stuff. At a minimum, start with refrigerated kraut — often found in bags or tubs near the chilled pickles at larger supermarkets. Even better would be to find a deli or artisan who sells fresh-fermented 'kraut by the pint or the pound. However you source it, though, you want to start with crispy, bright shreds, not a mushy mash of greenish sog.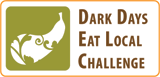 Once you've found the appropriate vegetable matter, you need to consider your garnishes. Nearly every choucroute recipe calls for white wine, potatoes, bay leaf, and juniper berries; meaty additions typically include multiple kinds of sausage, as well as either ham or pork belly. Variations include apples, slices of smoked pork loin, and even duck confit. Like most home-style dishes, the exact ingredients are a matter of regional and personal preference; it's almost impossible to go wrong.
There's really only one problem with traditional choucroute: Its size. Don't get me wrong: It's a lovely thing to make when you're feeding a crowd, and like so many peasant foods, leftovers are possibly even better than the original meal. But for a midweek supper, the usual cocotte trés grande is a bit of overkill. But if you find yourself with a some sauerkraut hanging around — perhaps after making a flight of Reuben sandwiches? — you can make a smaller, simpler version with a small bag of easily-sourced market goodies.
Petite Choucroute
- loosely adapted from Anthony Bourdain's Les Halles Cookbook
1 pound good-quality sauerkraut (we like Alexander Valley Gourmet)
4 fingerling potatoes
2T lard or bacon fat
1 small onion, diced
5 juniper berries
2 small garlic cloves
1 small bay leaf
1/2 tsp coriander seed
1/2 bottle (1.5 cups) dry-but-fruity white wine, such as Riesling
2 sausages, approximately 1/2 pound (* see note)
8oz pancetta (or slab bacon, pork belly, etc.), cut into 2-inch chunks
Rinse the sauerkraut in cold water and drain well. Boil the potatoes until slightly firm; cut in half and set aside.
Heat the pork fat in a medium saucepan over moderate heat. Saute the onion until softened. Add the sauerkraut, aromatics, and wine, plus salt and pepper to taste. Cover and bring to a simmer. Add the pancetta; recover and simmer over lowest heat for 90 minutes. Place the potatoes on top of the choucroute, cut side down, and tuck into the simmering liquid. Put the sausages on top of the choucroute; cover again and simmer gently until the potatoes and sausage are warmed through.
To serve, spoon the choucroute into two warmed, shallow bowls, dividing the meats and potatoes evenly. Serve with spicy mustard on the site.
—
* We typically use Fatted Calf knockwurst to complement Boccalone pancetta. Feel free to improvise with the sausages you're able to find locally, or even to choose different meats. Bear in mind you want some contrast between the flavors, but that they should play well together. If you're using slab bacon, try a sausage that isn't smoked or heavily salted, like a mild bockwurst. Other winning combos include garlic sausages with duck confit (add the latter at the end instead of simmering it), or ham hocks with boudin blanc. If you're using unsmoked sausages, you'll need to poach them before adding to the choucroute for the final simmer.