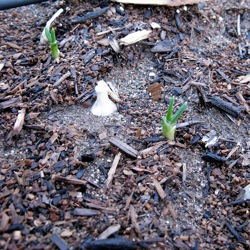 It wasn't easy to leave our newly planted crops germinating all on their lonesome as we took off for two weeks of well-deserved R&R on the far side of the Atlantic, but it was probably for the best. If nothing else, we were saved the agony of daily garden inspections in search of any signs of life. I briefly considered pointing a webcam at the back yard before we shuffled off to London, but discarded the idea after realizing that it would seriously creep out the housesitter, and that the camera's resolution is so poor that I would be lucky to be able to pick out the raised beds, let alone any tiny green sprouts.
So we returned from Albion with zero information, but plenty of hope. We dropped our luggage, played with the dogs for a minute or two, and then raced out to see if our backbreaking labor (ha!) had shown results. Happily, it had.
The radishes have come up like absolute gangbusters, sprouting delicate green tops and putting everything else to shame. The pea vines are running a close second, with two lines of tough, wiry — and at less than half an inch tall, seriously cute — stems that already look like they're ready to wrestle a very tiny trellis into submission. The mixed lettuce is up and it's kind of amazing to see how different all the different types look already, even though the largest leaf can't be more than two millimeters across. A few of the onion sets are showing signs of life, and we even have a couple of green sparks showing in the leek trench.
So far, the laggards are the onion seeds and the beets. I'm not holding my breath on the former — everything that I've read says that onions are tough to grow from seed and that even when they are successful they take forever to germinate. I'm a bit puzzled about the beets, as they're supposedly unfazed by cool weather, but it's still pretty chilly at night and the seeds have only been in the ground for 20 days, 15 hours, and 33 minutes. But who's counting?
And yes, that is frost that you see on the seedlings in the pictures. The Sunday morning after our first night back arrived with a coating of frozen crystals. A few days later, none of the little ones seem any the worse for wear. Since then, I've also discovered that I can stop frost from occurring at all simply by covering the plants to protect them — much the way that carrying an umbrella prevents rain from falling. Me and my magical frost cover are available for weddings, birthdays, and bar mitzvahs.