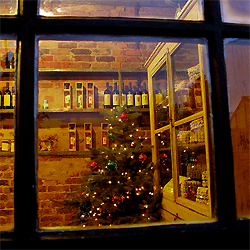 Happy Christmas, that is, from jolly old England! We're having a blast on our vacation so far, eating lots of tasty food (fish & chips twice so far, both excellent), drinking pints of bitter in some gorgeous pubs, shopping at Borough Market, visiting with friends, and generally feeling very lucky to be in London at Christmas.
Speaking of luck: Don't forget that today is the last day to bid on Menu For Hope raffle prizes. (Edited to add: The deadline's been extended to 12/31!) If you have your heart set on winning our Ferry Plaza gourmet gift basket, the odds are still very promising. Be sure to check out Pim's page for updates and new prizes that have been added along the way. There's some good stuff in there that I'm sure someone on your last-minute present list would love to have a chance to win.
May your days be merry and bright!