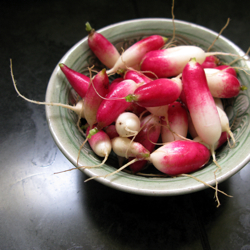 After two-plus weeks in London, we knew it was going to be difficult to get back to the grind, and the cold, grey weather here in San Francisco wasn't doing anything to help us get over our jetlag.
In a rare fit of travel wisdom, I'd planned our return for Saturday, to give us time to do little things like food shopping and laundry before heading back to work. But we arrived home far too late to get to our usual market at the Ferry Plaza, and the idea of trudging through a brightly lit supermarket didn't seem the slightest bit appealing.
So after a fortifying Sunday morning breakfast, we headed across the Golden Gate bridge, in search of the Marin Civic Center farmers market. Even though this market isn't much further from home than the downtown Berkeley market, we'd never checked it out. What we found was pretty impressive: A good number of stalls — maybe close to 100 — with a lot of variety, even in the middle of winter.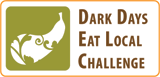 We certainly had no problem finding meat. Marin Sun Farms was there, as were the Prather Ranch boys and Devil's Gulch Ranch — a name we've seen on menus, but never bought; they don't sell at the SF markets. By the time we arrived, all they had left was a big five-pound pork shoulder roast. We hemmed and hawed, then decided that we could make a big batch of carnitas and save the leftovers for a later meal. A vendor from San Luis Obispo — technically outside our challenge radius, but we fudged it — was selling avocados, and a bakery from Sacramento had corn tortillas; we'd made the right decision.
We also picked up a pretty bone-in pork chop from Marin Sun, plus the usual assortment of vegetables and starches. Once we returned home, I popped the pork chop in my usual cider brine for a few hours. For our first Challenge meal of the week, we served it with mashed potatoes and a really nice chopped salad of romaine, avocado, radishes, carrots, and cucumbers, all tossed in a citrusy dressing and topped with grated dry Jack. (I was mimicking a salad I used to love ordering at Two before they went downhill, and I think I got pretty darned close.)
Every time I opened the fridge, that enormous pork shoulder was staring back at me. With a full week of evening commitments ahead, I quickly figured out that I'd bitten off more than I could chew; there just wasn't time in our schedule for the full evening of patient simmering that carnitas requires. And with a slate of office projects piling up, there was no way I could work from home to coddle it.
I wondered aloud if the Crock-Pot might offer a solution, and Cameron agreed that it might be worth a try. "The worst thing that happens is you end up with pork stew." A quick cruise around the Web didn't really turn up much in the way of a trustworthy recipe, so I decided to wing it. I used our usual carnitas recipe, with a couple of changes: I left the meat in larger chunks to combat the tendency for everything to turn to mush. I also reduced the liquid — slow cookers retain a lot more moisture than even the best-sealed pots — and kicked up the brightness with a little citrus, to compensate for slow cooking's flavor-dulling effect.
I'd popped the ingredients in the pot, then headed to the office, fully expecting to return home in about 8 hours to keep an eye on the tail end of the cooking process. Naturally, work dramas conspired against me, so it was nearly 12 hours later that I walked in the front door. A heavenly smell from the kitchen relieved some of my fears that I'd created a pile of overcooked, dry slop.
I shouldn't have fretted. The part of the meat that wasn't submerged got pretty toasty… an unexpected bonus. The rest of the meat was perfectly cooked, juicy and tender, with just enough connective tissue left to keep things together until you hit it with a fork.
In a traditional carnitas recipe, the braising liquid gets simmered down — with the meat in it — at the end of the cooking process; the meat gets nice and crispy in the fat that remains after the broth simmers away. To simulate this effect, we drained the juices and skimmed off the fat to sear the meat. And as a bonus, we have an ice-cube tray full of really yummy pork broth.
Crock-Pot Carnitas
4 pound boneless pork shoulder
1T whole cumin seed, lightly chopped or crushed
2 bay leaves
1 onion, quartered
1 cup rich pork or chicken stock
1 oz orange juice or Meyer lemon juice
salt, to taste
water, as needed
Cut the pork shoulder into large chunks, and sprinkle with the salt and cumin. Place in the Crock-Pot with the bay, onions, stock, and juice. Add enough water, if needed, to come halfway up the meat. Cover with lid, set pot on low, and cook for 10-12 hours, until meat is very tender.
Remove the meat from the pot and set aside in a warm place. Pour the cooking liquid into a fat separator, let settle, and then pour the defatted broth into a wide pan or baking dish to cool, reserving for another use. (Alternately, use a glass measuring cup and a turkey baster to separate the fat from the broth, or your usual fat-separating method.)
Heat a large skillet, and add enough of the skimmed carnitas fat to the pan to cover the surface well. Pull the meat apart, creating pieces approximately 1 inch long, and add to the pan once the fat is sizzling. Brown the meat until crispy on the outside, turning with tongs as needed. Remove each piece from the pan as it browns on all sides, keeping warm until ready to serve.
Serve with warm tortillas and your choice of condiments: salsa, chopped cilantro and onions, guacamole, sliced radishes, etc.