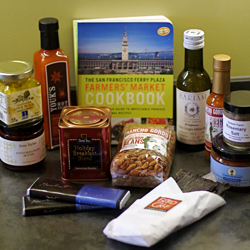 For two weeks every December, bloggers from all over the world offer a delectable array of food-related prizes for the Menu for Hope raffle. Last year, we raised $85,493 to help the UN World Food Programme feed the hungry. This year's campaign runs December 15 to 25, and every $10 you donate earns you one virtual raffle ticket for the prize of your choice.
(To learn more, head over to Chez Pim and check out her Menu for Hope V FAQ, or read the highlights at the bottom of this post.)
This year, we've decided to reprise our most-popular offering from last year's raffle:
Married …with Dinner's signature "Best of the Ferry Building" gift basket
Prize code UW-07, a hand-picked assortment of our favorite treats — worth more than $125 — from San Francisco's legendary Ferry Building Marketplace: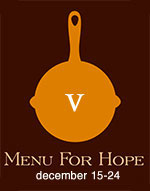 - Truffled artichoke tapenade from Lulu Petite
- Santa Rosa plum preserves from June Taylor
- Youk's Sauce from Prather Ranch
- Holiday Breakfast Blend tea from Peet's
- A pair of artisan "dark milk chocolate" bars from Recchiuti
- Ojo de Tigre beans from Rancho Gordo
- Rio Fuego "Very Hot Sauce" from Rancho Gordo
- Extra-virgin olive oil from Bariani
- Rosemary salt from Eatwell Farm
- Bittersweet chocolate ganache from Scharffen Berger
- Beef jerky from Fatted Calf Charcuterie
- A copy of the Ferry Plaza Farmers Market Cookbook
To give you something to remember us by when all the goodies are gone, this prize also includes the winner's choice of an 8×10 print from our collection of market photos.
For our prize, international bids are welcome, but winners outside the Continental US will be asked to pay for any import duties and/or shipping fees over US$25.
—-
Here's how to donate and get a chance to win:
Check out the cool items available on Matt*Bites and Chez Pim. (We know you want to win OUR prize, but you might want to bid on others, too …you generous foodie, you.)
Go to the donation page for Menu for Hope V. Just like last year, funds raised will go to support the United Nations World Food Programme.
Make a donation! Each $10 you donate will give you one virtual raffle ticket toward a prize of your choice. Please specify which prize or prizes you'd like in the "Personal Message" section in the donation form when confirming your donation
Don't forget to mention how many tickets you want to allot per prize, and please use the prize code — for example, a donation of $50 can buy 1 ticket for UW-07, 1 for UW-08, and 3 for UW-09.
If your company matches your charity donations, please remember to check the appropriate box on your submission and fill in the information so Menu for Hope can claim the corporate match.
Please also check the box that allows the contest administrators to see your email address so that they can contact you in case you win. Your email address will not be shared with anyone else.
Check back on Chez Pim on January 12, when Pim will announce the result of the entire raffle. (We'll also announce the winner of our prize here.)
Good luck to everyone, and thanks for supporting such a worthy cause!