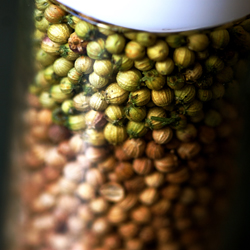 I was going to title this post "Last harvest", but then I realized — even in our fairly seasonal garden — that our harvest never really ends. The lemon tree is ever-bearing, and is coming into its peak fruit-picking season. The bergamot is busting out all over; it dropped a fruit today — which is almost certainly hollow, but plenty good for making one of our favorite liqueurs.
Our makrut (kaffir lime) tree is growing so large that it needs a fairly major pruning; when that happens, we'll have enough aromatic leaves and fruit to supply a small Thai village. And although the lemon verbena is dying back to its canes, the plum tree has gone dormant, and the basil is long-since gone to seed, we'll have most of our herbs — thyme, oregano, and sage — through the dark days.
Today we tackled two garden-related tasks: One in the kitchen, to put up a few bits of the 2008 season, and one at the lumber yard, to lay the ground work for 2009. Early in the day, I picked and sifted through piles of coriander and fennel seed, which I'd set aside a few weeks ago to dry. As you can see from the photo above, the color contrast between home-grown seeds — even when fully dry — and store-bought is fairly dramatic; the scent and flavor are even more astounding.
Later in the afternoon, we headed off to the suburbs in search of redwood decking. We've finally decided — after two years of avoiding reality — that our pretty patio is a luxury; even in our sunny 'hood, we aren't able to entertain outdoors more than a few times a year. So Cameron pulled out the gardening books, mapping out a plan to replace some of the slate pavers with raised garden beds. (I'm hoping he'll pop by soon to tell you more about his construction plans and maybe even share his planting diagrams.)