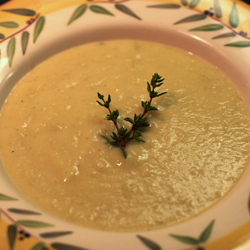 There's some sort of culinary magic that happens in autumn, when even the homeliest of foods can be made beautiful and delicious. I'm convinced that there's something in the air at this time of year — every foodie I know looks forward to fall, and it can't just be because we're all sick of tomatoes and mozzarella.
A case in point: We had a half-knob of rather unattractive celeriac left over from an earlier recipe, so we cobbled together a creamy soup by adding a potato, some celery, butter, stock, and thyme. A few shallots, admittedly gorgeous by anyone's definition, gave the mixture a hint of sweetness.
You might think something this monochrome would taste as bland as it looks, but you'd be mistaken. It's earthy and herbal, silken and almost meaty. Served in demitasse or small bowls, I think you could even call it pretty enough for company, should the occasion arise. But trust me, you won't want to share.
Celeriac Bisque
- Serves 4 as a first course
2T unsalted butter
1/3 cup chopped celery (1 medium stalk)
1 medium shallot, minced
12 oz celeriac (also known as celery root), peeled and cut into 1/2-inch dice
1 medium starchy potato, peeled and cut into 1-inch cubes
3 cups unsalted chicken broth or stock (plus more as needed)
2 sprigs fresh thyme
-
2T whipping cream
herbs for garnish
In a heavy, medium-sized saucepan, melt the butter over low heat. Add the celery and cook, covered, until the celery just starts to soften (2 to 3 minutes). Add the shallots and saute, uncovered, 3 minutes more. Stir in celeriac, potato, stock, and thyme sprigs; lightly salt to taste. Bring to a boil, then reduce heat to a bare simmer. Cover and cook until vegetables are very tender, about 40 minutes.
Remove the thyme sprigs and, using a stick blender, puree the soup until smooth. (You can also use a standard blender: cool the soup a bit, work in batches, and then return the puree to the pan). Add additional stock as needed to achieve desired consistency. Stir cream into the soup and adjust seasonings with salt and pepper. Ladle into flat bowls, and garnish with chopped herbs or small tender sprigs, as desired.